Convert small rural schools to charter schools, minister of education says
Conversion to charter schools could help relieve the pressures small schools in remote areas face, Minister of Education Wu Se-hwa (吳思華) said yesterday.
During a tour of a Taitung County elementary school, he said that rapidly declining student numbers have sharply increased the number of "mini" elementary schools with fewer than 50 students.
Ministry statistics show that there are 432 such schools nationally, including a third of Taitung County's elementary schools, due to its low population density.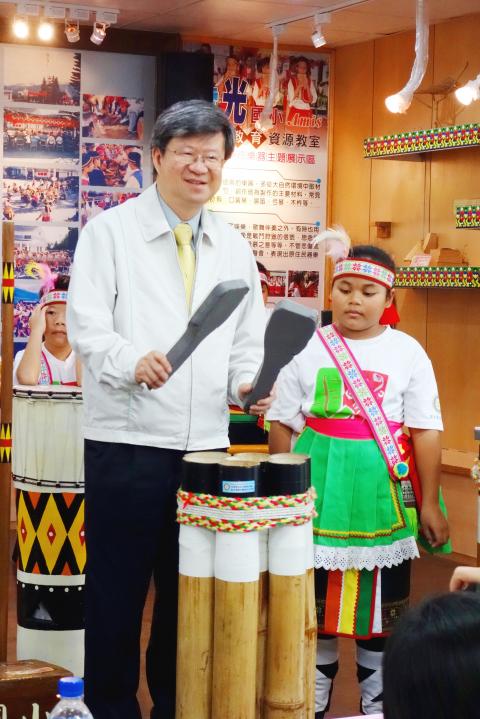 Minister of Education Wu Se-hwa, left, visits Dianguang Elementary School in Taitung County's Guanshan Township yesterday.
Photo: Lin Hsiao-yun, Taipei Times
With only eight students, Penghu County's Huayu Elementary is the smallest school in the nation.
Wu said that small schools in remote areas should be preserved whenever possible due to their importance to local communities, adding that transforming small schools into charter schools would aid their preservation by relieving the schools' teachers of many administrative burdens, giving them more time to focus on educating students.
According to laws governing experimental education passed by the Legislative Yuan earlier this month, school operations can be turned over to outside groups on a non-profit basis, provided school fees are collected on the same basis as publicly operated schools.
Nationally, there are already four such schools, the ministry said.
Wu said transformation into charter schools would enable small schools to be more creative and flexible in meeting the needs of students, while bringing outside resources to the schools even as public subsidies are maintained.
In addition, charter schools have greater flexibility on hiring teachers and salaries, he said.
Wu said the ministry is drafting a plan to implement laws regulating experimental education, with schools having already begun applying to be transformed into charter schools.
Any transformations would be done only with the consent of local governments, he said.
Comments will be moderated. Keep comments relevant to the article. Remarks containing abusive and obscene language, personal attacks of any kind or promotion will be removed and the user banned. Final decision will be at the discretion of the Taipei Times.