CGA says Chinese boats expelled
NAVY DEMANDED: A coral reef specialist said that boats operating illegally are damaging maritime resources, adding that navy destroyers would keep the boats away
The Coast Guard Administration (CGA) said yesterday that a fleet of Chinese fishing boats that intruded into near-shore waters to the south of Penghu have all been repelled, vowing to patrol the region more to better defend the nation's maritime territory.
However, Penghu fishermen and researchers said the cat-and-mouse game has gone on too long, adding that the Chinese boats are plundering marine resources around islands in the Taiwan Strait.
The groups requested that the navy send in big warships, as this is the only way to enforce the nation's maritime sovereignty.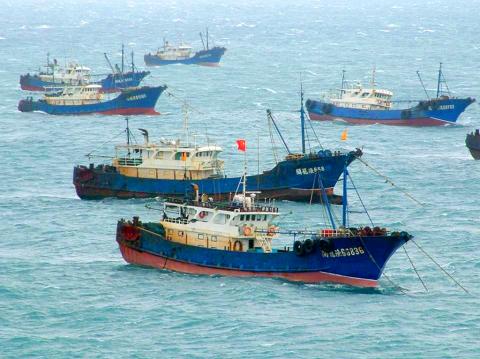 Chinese fishing boats flying the People's Republic of China flag operate in waters near Dongji Islet in Penghu County on Monday.
Photo taken from Facebook
The coast guard statement said that 29 Chinese fishing boats that were spotted offshore of Dongji Islet (東吉) on Monday, had been driven from the area as of Tuesday evening.
The coast guard said it dispatched two vessels — CG-123, a 500-tonne Kinmen cutter, and PP-10038, a 100-tonne patrol boat — on Tuesday morning on the safeguarding mission.
Despite inclement weather and large waves whipped up by strong northeasterly winds, the coast guard ships repelled all the Chinese fishing boats and would continue to patrol the area, coast guard officials said.
However, local fishermen were still not happy about the situation, saying the nation's armed forces, and not the coast guard, should take more vigorous action against the increasing maritime intrusions by Chinese vessels.
The incident touched off condemnation over government inaction, as Dongji Islet with its surrounding coral reefs and marine biodiversity are within the South Penghu Marine National Park (澎湖南方四島國家公園), which opened last month, becoming Taiwan's newest national park.
"What is the use of instituting marine conservation in the area?" asked Jeng Ming-shiou (鄭明修), who is a scientist at Academia Sinica's Biodiversity Research Center.
"The Chinese ships keep encroaching to poach marine resources with their highly damaging bottom-trawling nets," Jeng said. "If we cannot effectively control and manage these waters, then it is not a real national park, it exists in name only."
"The steel-hulled Chinese fishing boats can be up to 200 tonnes and they are not scared when our coast guard patrol vessels approach," said Jeng, who is a coral reef specialist doing research in the area.
"We must get the navy to do the job. They should send in big naval warships, like 3,000-tonne destroyers," the scientist said.
"Only warships would put the fear into the Chinese intruders and deter them from coming into these waters," he added.
Comments will be moderated. Keep comments relevant to the article. Remarks containing abusive and obscene language, personal attacks of any kind or promotion will be removed and the user banned. Final decision will be at the discretion of the Taipei Times.