Judicial probe of top officials urged
MONEY TALKS: Protesters outside the Control Yuan claimed that top government officials had colluded with and protected unscrupulous firms producing tainted food
The Northern Taiwan Society, the Taiwan Association of University Professors and other organizations protested outside the Control Yuan in Taipei yesterday to demand a judicial investigation and the impeachment of top health officials for dereliction of duty during the latest tainted cooking oil scandal.
Representatives from the groups called on the government watchdog to do its job by launching a judicial probe, because they said government officials have been negligent and shown to be incompetent for allowing food scandals to keep occuring, ruining the health of the public.
Foremost on their list of demands was that the Control Yuan investigate Minister of Health and Welfare Chiang Been-huang (蔣丙煌), former acting minister of health and welfare Lin Tzou-yien (林奏延) and Food and Drug Administration Acting Director-General Chiang Yu-mei (姜郁美).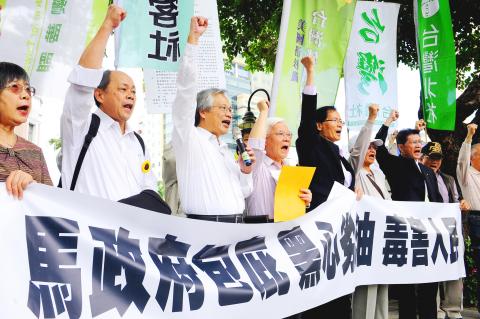 Taiwan Association of University Professors deputy secretary-general Chien Wen-nan, second left, Northern Taiwan Society lawyer Chen Ta-cheng, third left, and Northern Taiwan Society chairman Chang Yeh-sen, fourth left, protest outside the Control Yuan in Taipei yesterday at an event organized by the Northern Taiwan Society.
Photo: George Tsorng, Taipei Times
Northern Taiwan Society chairman Chang Yeh-sen (張葉森) said the Control Yuan must take up the investigation because the three top health officials failed in their duties to safeguard the health of consumers, and many people have suffered illnesses and medical conditions as a result.
Chang said that when the three were in charge of the health ministry they knew on Oct. 9 that Ting Hsin International Group (頂新國際集團) companies were using animal-feed-grade oil and other substandard oils to make food products, yet still allowed the products to be sold until Oct. 22.
"The Ma administration and these three officials were in collusion with the unscrupulous food companies. Together they protected the companies, which made big profits by selling toxic oil and tainted food to consumers. The public are suffering because they are killing us with their poisons," Chang said.
Chen Ta-cheng (陳達成), a Northern Taiwan Society lawyer, said prosecutors are only investigating the companies.
"Are there no problems with the government officials?" Chen asked.
"If the government was not secretly protecting and helping these unscrupulous companies, would these food scandals keep on happening?" he asked.
Hung Chung-yen (洪崇晏), a leader of the Sunflower movement who is a member of the Taiwan Forever organization, said too many food scandals and abuses of power have occurred in the past few years.
"However, in this administration, officials just wash their hands of the matter as if no one can be held responsible," Hung said.
"We should have 'responsible politics,' where officials not doing their jobs properly are impeached. So we are asking for this government and its top officials to bear the legal responsibility for the series of food scandals," he said.
After presenting their petition to the Control Yuan, representatives of the groups headed to the Taipei District Prosecutors' Office to request that it launch a judicial probe into the three senior health officials.
Comments will be moderated. Keep comments relevant to the article. Remarks containing abusive and obscene language, personal attacks of any kind or promotion will be removed and the user banned. Final decision will be at the discretion of the Taipei Times.