Questions remain over island project
COVERT THREAT? Democratic Progressive Party legislators warned against using Chinese-owned cargo vessels in a Spratly Islands wharf construction project
Democratic Progressive Party (DPP) legislators raised concerns about national security over shipping transport involved in the Itu Aba (Taiping Island, 太平島) wharf construction project in the contentious Spratly Islands (Nansha Islands, 南沙群島) in the South China Sea.
Minister of National Defense Yen Ming (嚴明), with Coast Guard Administration Minister Wang Ginn-wang (王進旺) and other officials, inspected the site on Wednesday.
The largest island in the Spratlys is administered by the coast guard, but is also claimed by China, Vietnam and Philippines.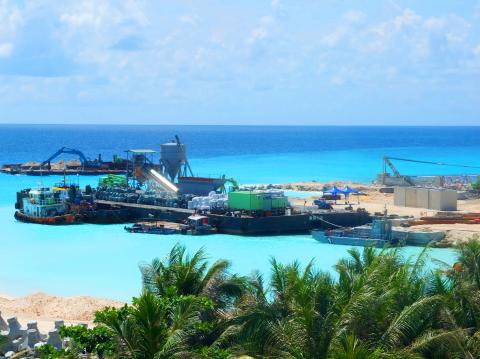 Construction of Itu Aba Wharf on Itu Aba (Taiping Island) in the South China sea is pictured on Wednesday.
Photo: Tsao Po-yen, Taipei Times
Officials observed construction machinery at the wharf — set to accommodate larger coast guard cutters and navy supply ships — in the island's southwest, as they approved construction progress, which was said to be on target for completion by the end of next year.
However, DPP lawmakers voiced concern over what they see as a potential breach of national security, after previous revelations that a Chinese company was the hidden owner of two vessels the engineering firm was considering hiring for shipping.
The ships — one registered in Liberia and the other in Cambodia — were to transfer concrete structures to anchor the wharf and other construction supplies.
Legislators Kuan Bi-ling (管碧玲) and Chiu Chih-wei (邱志偉), who chairs the Foreign Affairs and National Defense Committee, said Chinese-linked vessels should not be used in the Itu Aba project, due to spying risks.
"Although not registered as Chinese-owned, there are Chinese crews operating the ships. Marine hydrological data around Taiping Island could leak out," Chiu said. "Sensitive sea lane information from Kaohsiung Harbor to the island could also be exposed."
Wang told the committee that if the engineering firm in charge chooses a Chinese ship for the contract, he is confident that it will first conduct the checks necessary to ensure the ship is not equipped with any spying gear.
Government sources said that the coast guard authorized the Taiwan Area National Expressway Engineering Bureau, which is part of the Ministry of Transportation and Communications, to handle the project.
On Feb. 6 this year, the bureau said that a construction firm called East Pi Builds Co of Greater Kaohsiung had won the tender bidding process.
Although the project is supervised by the engineering bureau and CECI Engineering Consultants, Inc, East Pi Builds is in charge of engaging transport ships for the caissons and other supplies, and reportedly intended to hire the Chinese-owned vessels before the DPP legislators intervened.
Comments will be moderated. Keep comments relevant to the article. Remarks containing abusive and obscene language, personal attacks of any kind or promotion will be removed and the user banned. Final decision will be at the discretion of the Taipei Times.