Protests held against Air France
MONKEY BUSINESS: Activists said that Air France had transported thousands of monkeys to the US and Europe for use in experiments, keeping them in cramped cages
Activists against animal cruelty protested at the office of Air France in Taipei yesterday morning, asking the airline to stop transporting primates to laboratories in the US for use in experiments.
The protest is part of a worldwide series of events in the run-up to World Animal Day tomorrow, with activists from the People for the Ethical Treatment of Animals (PETA) in Paris, Hanoi, London, Los Angeles, Hong Kong and Singapore participating.
To highlight the plight of the primates, a protester named Luo Dan (羅丹) dressed up as a monkey and climbed into a cramped cage.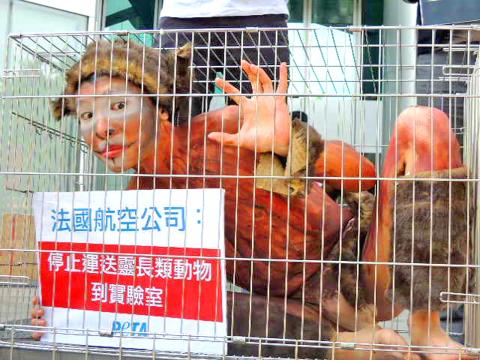 Anti-animal cruelty activist Luo Dan sits in a cage as part of a protest outside the offices of Air France in Taipei yesterday.
Photo: Hsieh Wen-hua, Taipei Times
Luo, a National Taiwan Normal University student, said the monkeys do not have a proper amount of room during the flight.
"My body is sore already just from being in this narrow cage for about 30 minutes," he said. "Now imagine how confused and terrified these monkeys are in dark cages for more than 30 hours."
Luo added that monkeys often die in experiments after being forced to contract diseases and fed experimental drugs.
He said that research has shown that the majority of drugs tested on the animals have different effects when they are used by humans.
"The sacrifices made by these animals do not necessarily translate to a better life for humans. Please stop cruel animal testing," he said.
A PETA activist, who identified herself as "Hailey," said that many airlines, including American Airlines, Singapore Airlines and several others, have committed to stopping the transportation of primates for laboratories after collective protests launched by animal rights activists.
Air France had transported more than 5,000 monkeys to labs in the US and several thousands to Europe, based on internal information obtained by PETA she said.
The information showed that the airline put these monkeys into cages, adding that some airlines even carried the animals in the hold of the aircraft, she said.
Air France merged with Royal Dutch Airlines (KLM) in 2004, with the latter serving as the agent for Air France in Taiwan.
"We will turn the activists' appeals over to the company's headquarters in the Greater China region," a KLM representative said.
As to the activist's allegation that Air France is the only airline that still ships primates to laboratories, the representative said that the claim needed to be supported by evidence.
Comments will be moderated. Keep comments relevant to the article. Remarks containing abusive and obscene language, personal attacks of any kind or promotion will be removed and the user banned. Final decision will be at the discretion of the Taipei Times.