Taiwan could lead on gay marriage: Sachs
Former Constitutional Court of South Africa judge Albie Sachs on Friday said that Taiwan would set itself apart from other countries and become a leader in openness if it became the first Asian country to legalize same-sex marriage.
It is "very heartening" to see that Taiwanese legislators have taken the first step, Sachs said at a press conference after a speech in Taipei, when asked about his views on Taiwan's same-sex marriage draft bill.
"Many people feel that if Taiwan is the first Asian country to recognize same sex marriages in that way, it will say something very profound about the openness of the Taiwan society," the 79-year-old said. "It will make Taiwan a leader in terms of openness to recognizing human dignity in forms that were denied before, and bring a lot of distinction to Taiwan."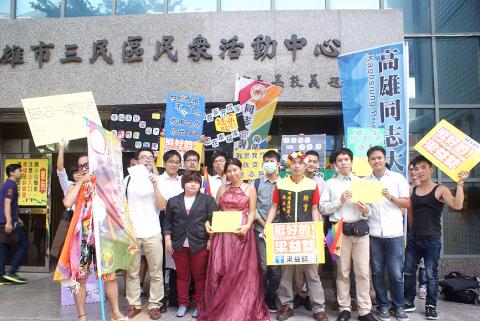 Gay couples pose for a photograph outside the household registration office in Greater Kaohsiung's Sanmin District yesterday, where they intended to register as married couples.
Photo: Huang Chia-lin, Taipei Times
Sachs, the first Tang Prize laureate for the rule of law, was quick to stress that he was speaking only as an outsider and it would be for Taiwanese lawmakers to decide on the matter.
"Each country has to find its own way," he said. "We found the South African way of dealing with the issue, and you will have to find the Taiwanese way."
During Sachs' tenure as a Constitutional Court of South Africa judge from 1994 to 2009, the court abolished the death penalty, overturned anti-homosexuality laws and legalized same-sex marriage.
In the landmark Minister of Home Affairs v Fourie case in 2005, Sachs authored the court's decision that legalized same-sex marriage in South Africa, making South Africa the fifth country to recognize such unions.
Sachs said that people who oppose same-sex marriages have a different viewpoint, but the Constitution cannot allow that viewpoint to determine the basic rights of same sex couples.
A draft bill that would legalize same-sex marriage in Taiwan and allow married gay couples to adopt children cleared a first reading in the Legislative Yuan last year and was sent to the legislature's Judiciary and Organic Laws and Statutes Committee for review.
However, since then, the bill's progress has stalled, largely due to religious opposition.
If it passes a third reading and becomes law, the legislation would change all legal references to marriage to be gender-neutral, with terms like "husband" and "wife" becoming "spouse." It would leave the rights and obligations of spouses in marriage unchanged.
Last year, tens of thousands of people took to the streets of Taipei to protest the draft bill.
Sachs said he believes that public opinion changes quickly on issues such as gay marriage, saying that in South Africa, support for same-sex marriage is much more favorable than it was before.
"People may say: 'OK, it's not my way. I wouldn't go that way, but if that's what people want and it's important for them, let them recognize their love,'" he said.
Comments will be moderated. Keep comments relevant to the article. Remarks containing abusive and obscene language, personal attacks of any kind or promotion will be removed and the user banned. Final decision will be at the discretion of the Taipei Times.