Chiu vows oil registry and rules by Oct. 31
Minister of Health and Welfare Chiu Wen-ta (邱文達) yesterday pledged that the ministry would finish registering food oil manufacturers, importers and upstream oil providers, as well as tightening self-management regulations for food oil companies, by Oct. 31.
He also apologized for the second time this week for the snowballing food scare that shook the nation, saying: "I will not shirk my responsibilities as a government official. The ministry is resolute in its actions to root out all evil."
However, when asked whether he would resign over the food scare, he said that he would leave that decision to his superior.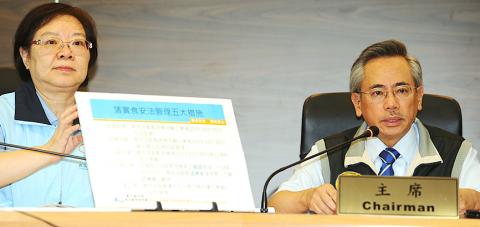 Minister of Health and Welfare Chiu Wen-ta, right, is joined by Food and Drug Administration Director-General Chiang Yu-mei as he announces new regulations for the food oil industry in Taipei yesterday.
Photo: Chang Chia-ming, Taipei Times
Food and Drugs Administration (FDA) Deputy Director-General Chiang Yu-mei (姜郁美) said the ministry is working on a registration system to monitor about 100 oil manufacturers and 500 importers in the nation, while enforcing what the ministry termed "first-tier quality control," which stipulates that self-management measures must be completed by food oil companies before Oct. 31.
Citing the Regulations Governing Traceability of Foods and Relevant Products (食品及其相關產品追溯系統管理辦法), she said that businesses who report fraudulent information regarding their products to the registration system face a fine of up to NT$3 million (US$100,000).
Companies who are found to have committed serious violations risk having their registrations, as well as those of their factories and store fronts, revoked for one year, meaning that violators would be banned from conducting business during that term, she added.
The ministry also announced it would implement "second-tier" and "third-tier" quality control, with oil manufacturers to be evaluated by a third-party inspection agency by Jan. 1 next year, and edible oil manufacturing to be included in the Good Hygiene Practices inspection, she said.
Chiang said the ministry is working with the Ministry of Justice to increase penalties on manufacturers and importers that provide substandard edible oil, and the two ministries are seeking to end laws that prevent offenders from being subjected to repeated punishments.
Meanwhile, New Taipei City's Department of Public Health yesterday announced the latest progress on its probe into Fang Fu's (芳福) lard oil — which was allegedly manufactured with animal feed oil imported from Hong Kong by Chang Guann — revealing that Tyzex Food, a well-known glutinous oil rice vendor, acquired 8.67 tonnes of the feed oil-tainted lard, of which 8.05 tonnes were used in the making of its glutinous rice products.
The quantity and which items of Tyzek Food products were affected was still being verified as of press time.
The department also found Yu Jan Shin, a pastry and snack manufacturer based in Greater Taichung, manufactured six of its products using Fang Fu's lard oil, including curry-stewed pie and mung bean and meat pastry.
The company's popular crispy butter cake was not found to have been processed with tainted lard.
Kuang Ta Hsiang, a pork floss company, used 16 tonnes of Fang Fu lard oil it purchased in 14 of its pork floss and fried pork floss products, which amounted to 691 tonnes and that sold to supermarkets and other distribution channels across the nation, the department said.
The city yesterday removed 5,683kg of the company's pork floss products from the shelves.
Comments will be moderated. Keep comments relevant to the article. Remarks containing abusive and obscene language, personal attacks of any kind or promotion will be removed and the user banned. Final decision will be at the discretion of the Taipei Times.