Jump-rope challenge met
HOP INTO HISTORY: With 597 jumpers in the fray, students from across Taiwan marked National Sports Day by setting a Guinness world record
Taiwan set a Guinness world record yesterday by having 597 people simultaneously rope-jumping error-free for a minute.
The event was held mainly in observance of National Sports Day, which falls on Sept. 9. It was also held to cheer on the nation's athletes who are to compete in the Asian Games in Incheon, South Korea, which open on Friday next week.
A total of 750 students from junior or elementary schools nationwide took on the challenge at 9:50am at the Sinjhuang Gymnasium in New Taipei City.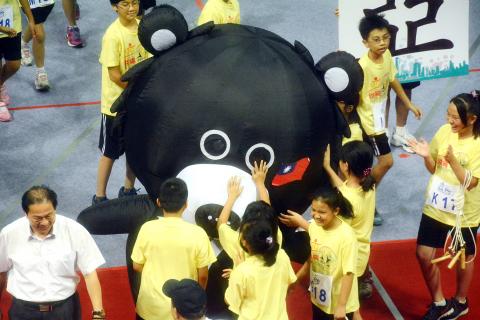 Schoolchildren taking part in a record-breaking rope-jumping event in New Taipei City's Sinjhuang District yesterday play with a Formosan black bear mascot.
Photo: CNA
According to the world records certification franchise, challengers can only set a new record if more than 250 people do double-Dutch-style rope-jumping at the same location and succeed in jumping for more than a minute without being tripped up.
The final count showed that 597 people had completed the challenge, witnessed by Guinness World Records judge John Garland.
Garland then presented a certificate to Sports Administration Director-General Ho Jow-fei (何卓飛).
Students taking the challenge as well as distinguished guests then gathered together in a V-shaped formation, signifying victory, to cheer for athletes competing in the Asian Games.
"Triumph in Asian Games; 10 golds to gain," they shouted.
For this year's National Sports Day, the administration invited Chen Shih-hsin (陳詩欣), who won the nation's first gold in the Olympic Games, as a spokesperson.
Prior to the challenge, Ho and four local government officials led about 2,000 students in a warmup rope-jumping exercise for 3 minutes via a telecast that included New Taipei City Mayor Eric Chu (朱立倫), Chiayi County Commissioner Helen Chang (張花冠), Pingtung County Commissioner Tsao Chi-hung (曹啟鴻) and Taitung County Commissioner Justin Huang (黃健庭).
By opening the day's events at 9:09am on Sept. 9, the administration said it wanted to inspire more people to develop lasting health through exercising.
The number "nine" in Chinese has the same pronunciation as the word "lasting" (久).
The events were streamed on YouTube.
Comments will be moderated. Keep comments relevant to the article. Remarks containing abusive and obscene language, personal attacks of any kind or promotion will be removed and the user banned. Final decision will be at the discretion of the Taipei Times.