Sports body launches book featuring award winners
A badminton player with a rare disease and a karate athlete from a troubled background are two of the athletes featured in Backlight Flying Angels (逆光飛翔的天使), published by the Sports Administration.
The book consists of stories about the 12 athletes who won the Presidential Education Award last year for extraordinary achievements in sports despite physical constraints or adverse conditions.
National Taiwan Normal University sophomore Fan Jung-yu (范榮玉) was diagnosed with Treacher Collins syndrome when she was born. The syndrome is characterized by craniofacial deformities, including drooping lower eyelids, missing cheek bones and malformed ears.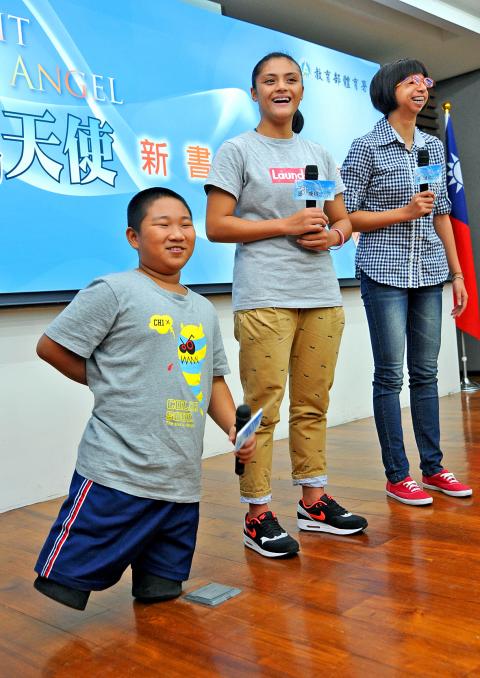 Chen Liang-ta, Huang Rui-ling, and Fan Jung-yu, left to right, smile at the book launch of Backlight Flying Angels in Taipei on Thursday.
Photo: Liu Hsin-de, Taipei Times
Due to an underdeveloped jaw, Fan has a respiratory tract that is narrower than normal, which can easily lead to a blocked airway. Fan also needs to wear hearing aids.
Her dedication and perseverance in badminton led to four gold medals in four different international competitions, including the 2011 World Deaf Badminton Championships in Inchoen, South Korea, and the Deaflympics in Sofia, Bulgaria, last year.
At one event, Fan met an athlete with the same disease, a connection she said was a great experience.
"We feel frustrated sometimes, but you feel encouraged when you know someone is fighting with you," she said.
High-school student Huang Rui-ling (黃瑞羚) is a karate enthusiast. Her father passed away when she was young and her mother remarried, while Huang went to live with relatives. She attended many different schools as a result of her living conditions.
She said karate helped her find herself again.
"My coach has given me many opportunities and has never given up on me," she said. "The team, which is like a big family, has given me a relatively stable life. The coach has treated me like one of his own and made me feel at home."
Huang achieved black belt within a year and a half of joining her karate school. She helped her team secure gold in the group category at the Chung Cheng Cup in 2012, as well as winning silver in the women's singles. She won bronze at the Asia Cup Shitoryu Championship the same year.
"If you are about to lose steam, use your willpower. You have to keep telling yourself that you should never give up. Things will work out," she said.
The administration has arranged speaking tours to schools for the athletes to share their stories.
Comments will be moderated. Keep comments relevant to the article. Remarks containing abusive and obscene language, personal attacks of any kind or promotion will be removed and the user banned. Final decision will be at the discretion of the Taipei Times.