Ko's remarks over candidate spark an outcry
SEXISM CHARGES: KMT Taipei City councilors said it was not the first time that the Taipei mayoral candidate made sexist remarks and he should be boycotted at polls
Independent Taipei mayoral candidate Ko Wen-je (柯文哲) caused a ruckus over the weekend when he said that the Chinese Nationalist Party's (KMT) Chiayi mayoral candidate Chen Yi-chen (陳以真), being "young and beautiful," may be more suitable to become a receptionist or appear in a tourism advertisement, but not to be mayor.
"I believe our society would not accept what Ko said, and I condemn his sexist way of thinking and his remarks," Chen said yesterday when asked to comment on Ko's remarks.
While campaigning for the Democratic Progressive Party's (DPP) Chiayi mayoral candidate, Twu Shiing-jer (涂醒哲) on Saturday, Ko said Chen is "young and beautiful" and thus "would be very suitable to sit behind the front desk, or appear in an advertisement for the Tourism Bureau," but she may not be a suitable candidate for a mayoral position since she lacks experience.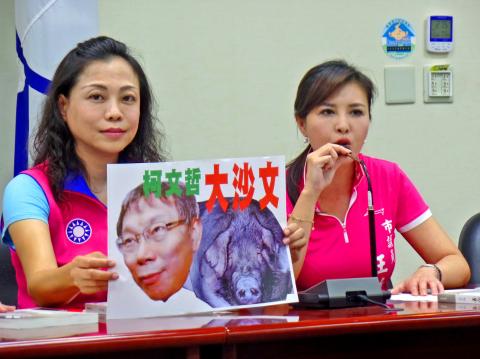 Chinese Nationalist Party (KMT) Taipei City councilors hold a press conference in Taipei yesterday accusing independent Taipei mayoral candidate Ko Wen-je of making sexist remarks on Saturday.
Photo: Kuo An-chia, Taipei Times
Female KMT Taipei city councilors yesterday condemned Ko's remarks in a joint press conference at KMT Taipei mayoral candidate Sean Lien's (連勝文) campaign headquarters.
"Ko's remarks are full of male chauvinism and very unfair to all female politicians," KMT Taipei City Councilor Wang Hong-wei (王鴻薇) said.
"If he thinks that young and beautiful women are only good for sitting at a reception desk, he is certainly not a suitable candidate for mayor of Taipei," she added.
Wang called on the DPP, which committed itself to help Ko, to explain its position on the remarks, especially as DPP Chairperson Tsai Ing-wen (蔡英文) is a woman.
Lien's female campaign spokesperson, Yu Shu-hui (游淑惠), called on Ko to apologize to all women.
"This is not the first time that Ko has made sexually discriminatory remarks. In his book, Power of White [白色的力量], he wrote that 'the smartest wife knows that she only needs to take good care of the children, because the husband will always come home after playing around,' and 'you can see that an industry is on the decline when you see more and more women in the business,'" Yu said.
"I hereby call on all female voters to boycott such a chauvinistic candidate by not voting for him," she added.
Responding to the criticism, Ko yesterday said that the main point of his remarks on Saturday was that he thinks Chen does not have the experience and abilities required of a mayor.
"I meant that you do not automatically qualify to be a mayor just because you are pretty or young, especially when Taiwan is an island, where you need to deal with many disasters," Ko said. "When a company hires people, it examines an applicant's past work records, but as far as I know, Chen's performance in the past was poor, whether as lawmaker or as minister of the Youth Affairs Commission."
Comments will be moderated. Keep comments relevant to the article. Remarks containing abusive and obscene language, personal attacks of any kind or promotion will be removed and the user banned. Final decision will be at the discretion of the Taipei Times.