TAINTED OIL SCANDAL: Consumers flock to hotel buffets despite food safety concerns
More people are eating buffet meals at major hotels despite rising food safety concerns amid a scandal over recycled waste oil being sold, market sources said yesterday.
Taiwanese consumers have faith in hotels' ways of handling their dishes, so they have flocked to their restaurants to eat buffets even though many of the businesses have raised their prices.
On Thursday, Wei Chuan Foods Corp (味全食品工業), one of the nation's leading food-products makers, announced a recall of 12 of its products after it admitted that recycled waste oil had been used in their manufacturing process.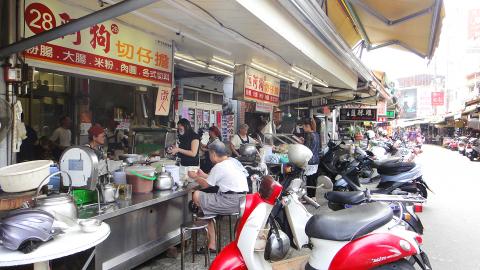 A woman pays for her food at a food vendor in Pingtung County yesterday. The Pingtung County Government's Public Health Bureau has found that none of the vendors at a well-known Pingtung night market are using the Chuan Tung brand of lard-based oil produced by Kaohsiung-based Chang Guann Co.
Photo: CNA
Wei Chuan's revelation triggered a large-scale investigation by authorities into the local food industry on Friday. According to the Food and Drug Administration, at least 235 domestic food companies and restaurants around the nation have used questionable lard-based oil made with recycled kitchen waste.
The tainted oil was supplied by Chang Guann Co (強冠企業), a well-established Kaohsiung-based company that purchased the recycled oil and mixed it with lard before selling the material to food manufacturers and restaurants.
The scandal has upset consumers, as it is the latest of several food scares to hit the nation in the past two years and, like the others, this one also involves major food suppliers and vendors.
However, hotels seem to have been spared customers' fears.
The Regent Taipei, one of the major hotels in Taiwan, said its buffet business has not felt any pinch from the latest food scandal, and instead has seen an increase in patronage and earnings.
The hotel said many consumers remained confident in the food provided by major hotels as they expect the businesses have established long-term cooperation with high-quality food material providers to prepare food which can meet health standards.
In addition, the Regent said that many customers believe that the major hotels will not sacrifice the quality of their products in a bid to save costs, but will try hard to maintain their standards.
The Ambassador Hotel agreed, saying that major hotels always pay close attention to food safety by tightly monitoring the expiration dates of food materials, and closely managing food stock.
The hotel also witnessed its buffet sales rise after the nation was hit by the latest food safety scandal.
The Ambassador Hotel has raised its buffet price to NT$1,000 (US$33.30) from NT$900 for the dinner period, but the price hike has seemingly not turned its customers away.
Hotel sources said the rising popularity of hotel buffet services showed many consumers have put higher dining-out costs behind them.
According to the government's statistics, consumer spending in restaurants last month rose 4.54 percent from a month earlier to the highest in more than five years due to higher food prices.
Comments will be moderated. Keep comments relevant to the article. Remarks containing abusive and obscene language, personal attacks of any kind or promotion will be removed and the user banned. Final decision will be at the discretion of the Taipei Times.