Pingtung farmer finds success with jasmine
Jasmine, despite being known for its fragrance, has been considered something of an underachiever in terms of its flower market sales. However, the plant is making a comeback thanks to a Pingtung County flower farmer who introduced the plant to the area 20 years ago.
Tsai Yu-sheng (蔡玉生) started out planting moth orchids on a tiny plot of land in his hometown, Fangliao Township (枋寮), but he could not compete with corporate-run orchid farms.
After carefully studying the flower market, he identified an unexploited niche: jasmine.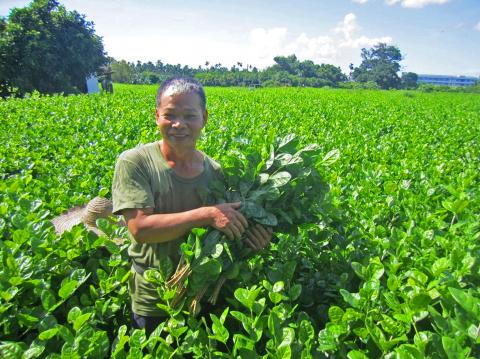 Tsai Yu-sheng holds a bunch of jasmine vines on his farm in Fangliao Township, Pingtung County, on Wednesday last week.
Photo: Chen Yan-ting, Taipei Times
Few people planted jasmine then, and the flower's price was relatively stable, Tsai said.
He leased a 1 hectare plot so he could plant more, not thinking that he would still be in business more than 20 years later.
Jasmine is a low-cost perennial that can be pruned throughout the year, Tsai said.
"The more you prune them, the better they grow, and the vines sell for a good price," he said.
Remembering his formative years, Tsai said he often felt amused, but frustrated, because his neighbors often asked him: "Who are you going to sell all this ceylon spinach to?"
Ceylon spinach is one of the names for Basella alba or Basella rubra (落葵), a perennial vine with edible leaves.
However, that does not matter anymore as his jasmine field not only yields better profit margins than ceylon spinach, it is also more profitable than "mainstream" flowers such as gladioli, evening primrose and dancing-doll orchids.
Since jasmine grows slower in winter, that is when its price more than doubles from summer, to about NT$30 a bundle, Tsai said.
Tsai gets to take a bit of a break from September to November, after harvesting his crop in late August.
During this time, he trims all the bushes to the bottom and waits for them to bloom again in December, he said.
The average lifespan of a jasmine plant is seven years, but the vines produce new sprouts after they trail to the ground, so there is no need to sow new seeds, Tsai said.
The vines become more valuable after they grow taller and more resilient, he said.
"The vines are sold at flower markets after the plants are pruned at 5am daily. Usually, they come in two lengths: 60cm and 70cm," Tsai said.
According to Pingtung County Agricultural Department, Fangliao Township has an ideal environment for growing jasmine.
Additional reporting by staff writer
Comments will be moderated. Keep comments relevant to the article. Remarks containing abusive and obscene language, personal attacks of any kind or promotion will be removed and the user banned. Final decision will be at the discretion of the Taipei Times.