Kai Ko reportedly seeks rehabilitation in a Taipei hospital
Actor Kai Ko (柯震東) was questioned by the Taipei District Prosecutors' Office yesterday morning over his reported use of marijuana in China last month.
Ko's lawyers asked prosecutors for deferred prosecution in exchange for Ko's entering a drug rehabilitation program at his own expense at the Cathay General Hospital in Taipei.
The 23-year-old returned to Taiwan early on Saturday, after his release from detention in Beijing.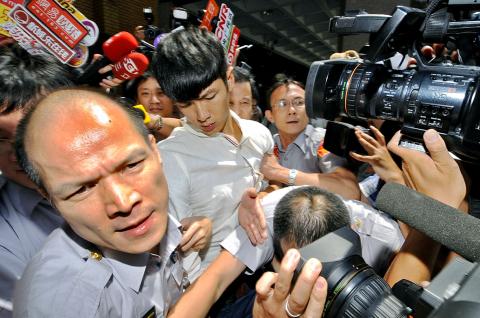 Taiwanese actor Kai Ko, second left, leaves the Taipei District Prosecutors Office yesterday after being questioned about his reported use of marijuana.
Photo: Chen Chih-chu, Taipei Times
He had been arrested and held for two weeks in Beijing for reportedly smoking marijuana with actor Jaycee Chan (房祖名), son of Hong Kong movie star Jackie Chan (成龍).
Ko was surrounded by security staff for the phalanx of reporters and photographers he encountered at the Taipei District Prosecutors' Office.
The government also dispatched 30 judicial police officers to keep order.
Prosecutors questioned Ko from 9:40am until noon.
Officials from the Bureau of Investigation, the Ministry of Justice and the Taipei Police Criminal Investigation Division were on hand to take hair and urine samples for analysis in search of other possible drug use.
Ko is to be summoned for further questioning after prosecutors know the results of those tests.
If the results show that Ko used only marijuana, prosecutors are to refer to evidence provided by Chinese authorities and recommend that Ko undergo observation and rehabilitation for at least 40 days, a senior prosecutor said.
Alternatively, he can register for a rehabilitation program at his own expense in exchange for deferred prosecution, the senior prosecutor added.
Ko was quoted by unidentified sources as saying during yesterday's questioning that he smoked marijuana for the first time two years ago and that the cannabis was provided by Jaycee Chan.
Ko was further quoted as saying that over the past two years, he used marijuana eight times — each time with Jaycee Chan at the latter's luxury apartment in Beijing.
Additional reporting by CNA
Comments will be moderated. Keep comments relevant to the article. Remarks containing abusive and obscene language, personal attacks of any kind or promotion will be removed and the user banned. Final decision will be at the discretion of the Taipei Times.