Temple leads innovation with digital technologies
NEW IDEAS: A Taipei temple is putting a modern twist on traditional worshiping practices, with an emphasis on convenience and environmental conservation
While most Taiwanese temples honor deities in more old-fashioned ways, Taipei's Songshan Fongtian Temple (松山奉天宮) has introduced a series of cutting-edge services, enabling worshipers to enjoy a high level of convenience while it works to become more eco-friendly.
Unlike other temples, which use traditional plaques and lanterns, at Songshan Fongtian Temple, a light-emitting diode (LED) spinning text marquee and digital "good-fortune lanterns" greet visitors at the temple's entrance, giving them a taste of what to expect from the temple's revolutionary services.
The 60-year-old temple, dedicated to Tien Gong (天公), the god of heaven, has this year revolutionized the worship candle — candles placed inside a transparent container, used when praying for good fortune — with "e-candles," which allow people to instantly locate their worship candles among thousands.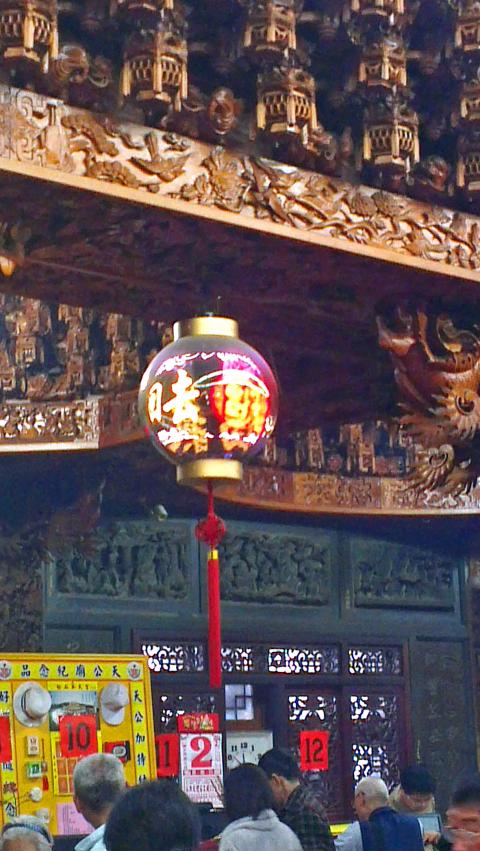 An LED lantern lights up the Songshan Fongtian Temple in Taipei in this picture taken on Tuesday.
Photo: Tang Chia-ling, Taipei Times
The service features a device called the "e-candle pole," with which people can scan a bar code given to them when they apply for a candle. In doing so, the device shows them where their candles are.
Alternatively, they can type their cell phone number on a screen fitted to the pole.
Temple chief executive Chen Po-chen (陳博貞) said the temple came up with the idea of the e-candles because visitors on average light 70,000 worship candles each year and locating their candles can be a daunting task.
Another new service is the Tien Gong Photo Booth. With a capacity equivalent to that of a tour bus, groups of worshipers can take pictures against a backdrop depicting the panorama of the temple under all kinds of weather conditions, Chen said.
In addition, as more people embrace environmental practices, the temple is developing what its staff term the "digital ghost money burner," which is set to be introduced next year.
The service enables people to sign their names on a touchscreen featuring digital ghost paper covered with litanies. After hitting the "send" button on the screen, a message is displayed to notify worshipers that the ritual has been completed and their prayers have been heard by Tien Gong.
Temple general affairs manager Yao Che-fu (姚哲夫) said the device is eco-friendly in that it is completely carbon-free and produces no particulate matter.
He said that with the help of computer graphic imaging (CGI) and digital photography techniques, the device burns digital ghost paper with CGI flames, which saves paper and preserves air quality.
He encourages visitors to adopt environmental practices while visiting the temple.
The digital ghost money burner is in the testing phase and is set to be inaugurated next year.
Yao said that the temple sets an example for other facilities in embracing eco-friendly practices, adding that authorities are to carry out an onsite appraisal to determine whether it qualifies as a venue for civil servants to learn about environmental conservation during mandatory class hours imposed by the government.
Comments will be moderated. Keep comments relevant to the article. Remarks containing abusive and obscene language, personal attacks of any kind or promotion will be removed and the user banned. Final decision will be at the discretion of the Taipei Times.