Butterfly wings lift Greater Taichung students to victory
Two juniors from Taichung Municipal Hui-wen High School recently claimed the top prize at this year's Shizuoka Kita Youth Science Engineering Forum after unlocking the secret to why Japanese white butterflies (Pieris rapae crucivora) dominate the white butterfly (Pieris canidia) population in Taiwan.
Yuan Li-yun (袁笠芸) and Hsiao Pei-wan (蕭佩宛) said that the Japanese white butterflies account for up to 90 percent of the nation's white butterfly population.
To determine why, the girls captured more than 100 white butterflies and put female Japanese and Taiwanese butterflies in separate ziplock bags to block the scent of insects' pheromones.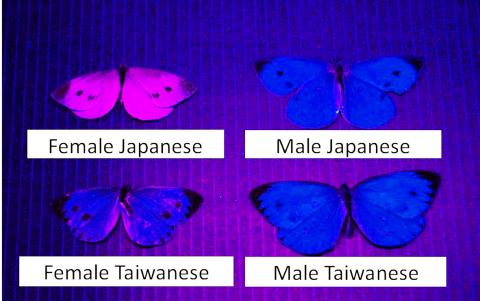 Markings on the wings of male and female Taiwanese and Japanese white butterflies are seen under ultraviolet light in a photograph provided by Taichung Municipal Hui-Wen High School in Greater Taichung.
Photo: Tsai Shu-yuan, Taipei Times
Even without being able to scent the females, the male Japanese butterflies were still drawn to the Japanese females, which prompted the pair to infer that the males rely mainly on vision, not scent, in the mating process.
By placing male and female butterflies under an ultraviolet lamp, they found that the Japanese females were the only ones able to reflect the light using their wings.
Yuan and Hsiao also used a microscope to observe their subjects and noted that the Japanese females have significantly fewer nanoparticles covering their wings, which is why they can reflect ultraviolet rays.
Since butterflies can detect ultraviolet rays with their compound eyes, the light reflected by the Japanese females helps males of the species locate them, thereby increasing the chance of mating, they said.
Their year-long project won the top prize in the forum's Biodiversity category, outperforming 182 students from 26 schools and eight countries.
Yuan and Hsiao said Japanese white butterflies apparently migrated to Taiwan more than 60 years ago by tagging along on ferries traveling between Japan and Taiwan.
For their next project, the pair hope to determine why Taiwanese and Japanese white butterflies do not mate across species.
Comments will be moderated. Keep comments relevant to the article. Remarks containing abusive and obscene language, personal attacks of any kind or promotion will be removed and the user banned. Final decision will be at the discretion of the Taipei Times.