Portable gas stoves fall short of safety standards
USE WITH CAUTION: Three of the gas cartridges tested by the Consumers' Foundation and a government agency are at risk of gas leaks and may be fire hazards
About one in three camp stoves recently tested by the Consumers' Foundation failed to meet national quality standards, prompting the foundation to urge caution when people buy portable gas stoves.
With barbecues a popular tradition during the Mid-Autumn Festival, which falls on Sept. 8 this year, the foundation and the Bureau of Standards, Metrology and Inspection conducted a series of quality tests on 10 portable cookers and 10 gas cartridges purchased from hypermarkets and online stores between March and May.
While all of the tested gas cylinders met the quality standards stipulated in the Chinese National Standards (CNS)-14530, three portable stoves failed, the foundation said.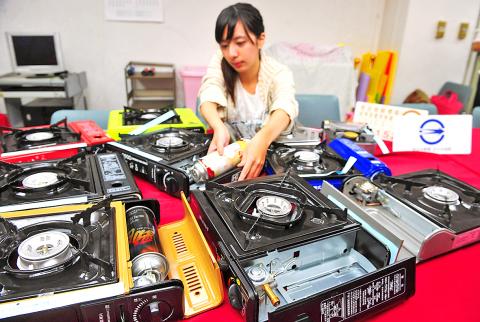 A woman displays a variety of portable gas stoves at a press conference held by the Bureau of Standards, Metrology and Inspection and the Consumers' Foundation in Taipei yesterday.
Photo: Chien Jung-fong, Taipei Times
"One of them is a China-made cooker branded Fire Bird (火鳥) with the model number 155g/h/ FBK-7000 purchased from a hardware department store in Greater Tainan, which does not come with a proper device to prevent incorrect cartridge placement and may put users at risk of gas leaks and fires," Consumers' Foundation chairman Mark Chang (張智剛) told a press conference in Taipei.
Chang said another deficient product is a portable oven marketed under the brand Gerash Japan with the model number 166g/h, whose pressure regulator only disconnects the gas supply when the pressure in the cylinder reaches 6.5kg force per square centimeter (kg/cm2), rather than between 4kg/cm2 and 6kg/cm2, as stipulated in the CNS-14529.
"This could cause the pressure within the cartridge to continue to rise and could eventually lead to explosions," Chang said.
The last product is a Jinyu-branded portable cooker with the model number of 155g/h/BDZ-155-A, whose problematic design could lead to incomplete combustion and "floating flames," Chang said.
Comments will be moderated. Keep comments relevant to the article. Remarks containing abusive and obscene language, personal attacks of any kind or promotion will be removed and the user banned. Final decision will be at the discretion of the Taipei Times.