Ranting rider apologizes to bus driver
A Taiwanese-American apologized in Taoyuan on Friday after stirring up public anger by allegedly physically and verbally threatening a bus driver with a string of expletives in English.
Jackson Chu reportedly called the Taoyuan Bus Co to say he wished to apologize to the driver, Chen Chin-chi (陳金積), in private. The company rejected the plea and instead insisted that Chu make a public apology at a police station.
Chu presented himself at Taoyuan's Lungan Police precinct on Friday afternoon, where he read a statement in what was described as "poor Mandarin Chinese interspersed with English," according to media reports.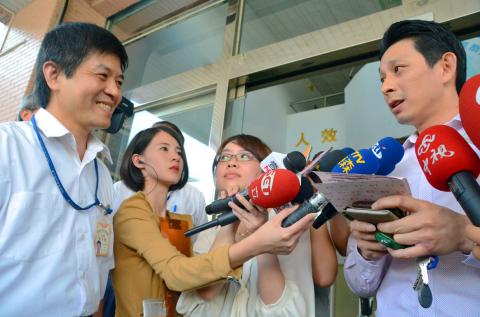 Jackson Chu, right, apologizes to bus driver Chen Chin-chi in front of Taoyuan City's Lung-an Police precinct on Friday afternoon, after he shouted at Chen on a bus on Monday last week.
Photo: Cheng Shu-ting, Taipei Times
He said that he was sorry for his actions and that it was wrong to act in such an impolite manner, using "bad words" to threaten the bus driver. He added that he did not control his emotions at the time.
Chu rode the No. 1 Taoyuan bus on Monday evening last week and reportedly became upset because he thought the bus driver passed his desired stop.
A video recording of the alleged incident showed Chu apparently threatening the bus driver, yelling expletives in English and pushing up against the driver in a threatening manner.
Chu's wife was standing nearby.
When the video was posted online, it caused a furor, as most people considered Chu's actions threatening to the bus driver and meriting criminal charges for his alleged verbal threats and endangering the other passengers.
Netizens were also particularly irked at Chu's swearing with what they described as "nasty words" in English.
The video led to heated discussions before Chu drew more public ire by threatening to sue a female university student surnamed Lin (林), who Chu said posted the video on the Internet.
In response to Chu's apology, Chen said: "We are a happy country; he is our guest and we welcome him to take our bus. He has said sorry and that will do."
Chen added that although he did not understand all of Chu's Chinese, he could feel his sincerity.
The bus company, which had earlier decided to file a lawsuit against Chu, said the incident "has come to a happy conclusion" and that it would drop the lawsuit.
Comments will be moderated. Keep comments relevant to the article. Remarks containing abusive and obscene language, personal attacks of any kind or promotion will be removed and the user banned. Final decision will be at the discretion of the Taipei Times.