President says 4G service still has room for growth
LATECOMER: While Taiwan lagged behind other nations in auctioning 4G licenses, NCC Chairman Howard Shyr said this allowed it to learn from the mistakes of others
President Ma Ying-jeou (馬英九) yesterday said that the government's aim is to have 4G telecommunications service cover 90 percent of the nation by 2017, but he hopes that this goal can be reached before he steps down in 2016.
Speaking at a forum on the future of 4G, Ma cited statistics from an Ericsson Mobility Report, which showed that global mobile data traffic grew 65 percent in the first quarter of this year compared with the same period last year.
The report also forecast that by 2019, there would be 9.2 billion mobile phone numbers, far exceeding the global population of 7 billion, he said.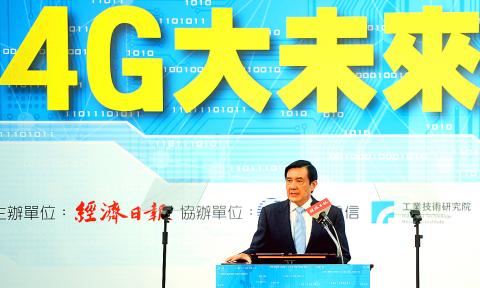 President Ma Ying-jeou speaks at a conference on 4G wireless technology in Taipei yesterday.
Photo: Lin Cheng-kung, Taipei Times
The president also cited a report published by the Global Mobile Suppliers Association, which said that the number of 4G service users topped 200 million worldwide last year, up 135 percent from 2012.
All these show that 4G service still has growth potential, he said.
"Aside from accessing social networks, checking e-mails and downloading games, music and videos, people like using instant messaging applications on their mobile phones to text people. In public places, you can see many people with their heads down checking their mobile phones, and this shows how the use of mobile communication is changing people's lives," he said.
Ma said that the government plans to release more bandwidth for use by 4G service operators. Aside from the 270 megahertz (MHz) in the 700MHz, 900MHz and 1,800MHz frequency blocks that were put on auction last year, he said the government plans to put up the frequency blocks from 2.5 gigahertz (GHz) to 2.69GHz for public tender.
An additional 370MHz in bandwidth will be available to 4G service operators by 2018, he added, including the frequency blocks used by 3G operators that will be returned to the government when their licenses expire that year.
"The nation has set a goal of having 4G service cover 90 percent of the population by 2017, with the number of users reaching 10 million. I hope these can be accomplished before my term ends" in 2016, the president said.
The government has faced criticism for the slow progress of Taiwan's 4G development, with local media saying the nation lags behind countries like Uganda in issuing 4G licenses.
Addressing the issue, National Communications Commission Chairman Howard Shyr (石世豪) said the government had issued 4G licenses one year ahead of schedule.
Although Taiwan lagged behind the US, Britain and Japan in auctioning 4G licenses, Shyr said it could avoid the mistakes that they made.
"If we had issued 4G licenses in 2010, the product supply chain for such technology would not have been mature. Now, except for 700MHz, the supply chains for 1.8GHz and 2.6GHz are already established, allowing suppliers to offer products at relatively lower costs," he said.
Issuing 4G licenses later has not hurt the nation, he said.
However, it is a fact that Taiwan trails South Korea in developing 4G or even 5G services, he said, adding that it made a mistake in 2006 by betting on WiMAX, rather than long- term evolution (LTE) technology, when it was developing 4G service.
Because of that mistake, Shyr said the government cannot flexibly use the 190MHz in the 2.6GHz frequency block, as they are used by WiMAX operators.
"I believe the use of 2.6GHz is a public issue and is not just a matter of profit or losses of certain operators," he added.
Comments will be moderated. Keep comments relevant to the article. Remarks containing abusive and obscene language, personal attacks of any kind or promotion will be removed and the user banned. Final decision will be at the discretion of the Taipei Times.