Taitung tree restored to upright position
It is currently just a pale shadow of the attraction that once drew crowds of hundreds each day, but things are looking up for the "Takeshi Kaneshiro tree" to return to its former glory.
The Bischofia javanica standing amid picturesque rice fields in Taitung, arguably the nation's best known tree, fell victim to Typhoon Matmo when the storm swept over the nation early on Wednesday, uprooting it and leaving it lying beside the road.
By Thursday, it had been restored to an upright position, even though some media reports described it as looking like "a bald man on crutches."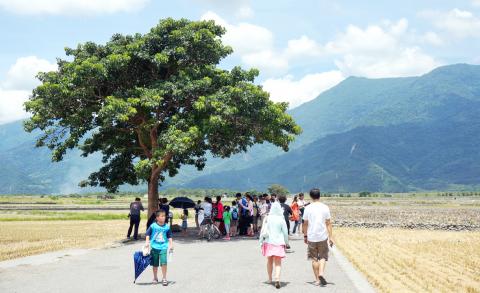 Tourists visit the "Takeshi Kaneshiro tree" in Taitung County, before it was damaged by Wednesday's Typhoon Matmo, in this undated photograph.
Photo: Chang Chia-ming, Taipei Times
The 7m tree shot to national fame in the summer of last year when Taiwanese-Japanese actor Takeshi Kaneshiro (金城武) was featured sipping tea in its shade for a prominent EVA Airways television commercial.
Since then, the tree and its picturesque backdrop of rice paddies and mountains have become a popular tourist draw despite the remote location.
Taitung's Chihshang Township (池上) Mayor Lin Wen-tang (林文堂) called the tree "an ambassador of tourism" and credited it with bringing 2,000 visitors a day on average to the town.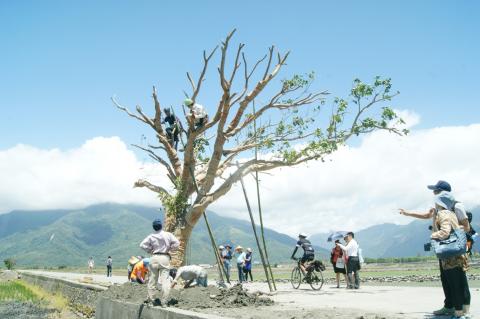 Two arborists from Japan, top, examine damage to the "Takeshi Kaneshiro tree" in Taitung County yesterday.
Photo: Wang Hsiu-ting, Taipei Times
The tree received special attention immediately after news broke that it had fallen into a neighboring field.
Local officials and EVA Airways executives vowed not only to save the tree, but also to make sure it grew stronger. Work got under way as soon as the storm blew past.
On Thursday morning, horticulturists contracted by local authorities trimmed the tree's branches and wrapped its trunk to preserve its internal moisture. They also removed excess roots and dressed where the wood had been sawed to avoid infection.
An excavator carefully removed gravel from around the roots and replaced it with nutrient-rich soil, before a crane hoisted the tree upright, to the joy of applauding spectators.
Once the tree was righted, workers applied wooden supports to the trunk and compacted the soil around it.
The manager of a local nursery called in to help with the operation, who identified himself only by his surname, Yang (楊), said the work would give the tree a more solid footing compared with before, when it was like a "potted plant."
If it shows signs of growth within two months "it will show that the Takeshi Kaneshiro tree is alive," Yang said.
"If it is alive, it will grow branches, twigs and leaves like before," Yang added.
Comments will be moderated. Keep comments relevant to the article. Remarks containing abusive and obscene language, personal attacks of any kind or promotion will be removed and the user banned. Final decision will be at the discretion of the Taipei Times.