Speaker Wang tells Ma of need to compromise
Legislative Speaker Wang Jin-pyng (王金平) yesterday said he had told President Ma Ying-jeou (馬英九) that the ruling party must be willing to make compromises for the free economic pilot zones draft act to pass in the legislature.
Wang commented on the stalled process of various controversial bills when he attended the closing ceremony for a workshop for the young to learn about the Legislative Yuan's operation yesterday.
The second extraordinary legislative session is scheduled to start next week, with lawmakers expected to focus on the confirmation vote for the Control Yuan nominees and discussion of the pilot zones draft act, Wang said.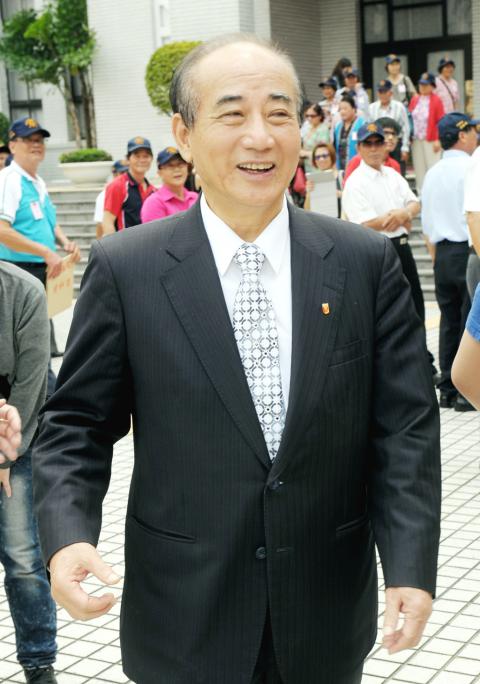 Legislative Speaker Wang Jin-pyng is pictured in Taipei yesterday.
Photo: CNA
Most of the bills could make their way through the deliberation and pass easily, and only a few, such as the cross-strait service trade agreement, the institutionalization of the cross-strait agreement oversight mechanism and the free economic pilot zones draft act, have failed to do so, the speaker said.
Wang said that the service trade agreement has not been put into the deliberation process due to "the legislature's handling and the operation of the caucus."
Although the Executive Yuan has proposed its version of the oversight mechanism bill, it was too simple and broad-brushed to meet the requirements of substantive legislative supervision and had left lawmakers squabbling, he said.
Wang told the young people that he had talked to the president weeks before about having the pilot zones draft act quickly referred to the legislative floor meeting rather than keeping it in the standing committee.
"You have to make concessions in order to obtain something. There are gains if you make compromises," Wang said.
He added that insisting on having the draft act in the committee but refusing to accept any revision to the act would achieve nothing, and that passing the draft act to the floor meeting would make it "easier" to handle.
Comments will be moderated. Keep comments relevant to the article. Remarks containing abusive and obscene language, personal attacks of any kind or promotion will be removed and the user banned. Final decision will be at the discretion of the Taipei Times.