Penghu Crash: Military aircraft transport the injured
FORTUNATE FEW: Among the 10 crash survivors is a 10-year-old girl who is being treated for her injuries in Taipei, while only one woman escaped with slight injuries
Seven passengers who sustained injuries in a plane crash on Peng-hu on Wednesday were flown to Taiwan proper yesterday morning on two C-130 military aircraft, the Ministry of Health and Welfare said in a press release.
"Two of the passengers were sent to Taipei, with one being taken to the Mackay Memorial Hospital and the other to the Linkou Chang Gung Memorial Hospital. Five were sent to Greater Kaohsiung, with two being transferred to the Kaohsiung Veterans General Hospital, two to the Kaohsiung Armed Forces General Hospital and one to the Zuoying Branch of the Kaohsiung Armed Forces General Hospital," the ministry said.
Two other injured passengers are being treated at the Tri-Service General Hospital's Penghu Branch as their condition remains unstable and they are unfit to fly, the ministry said, adding that it has also deployed a large X-ray machine to Penghu to assist forensic investigators with their autopsies of the dead.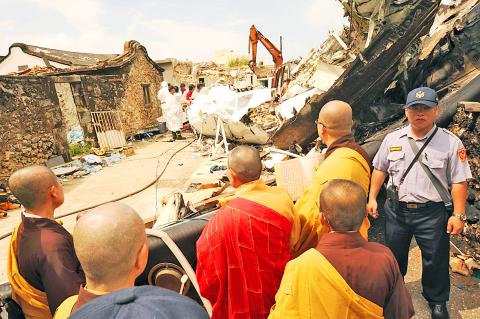 Buddhist monks gather at the site of the TransAsia Airways crash in Penghu County yesterday to perform a ceremony to call back the souls of the dead.
Photo: Chang Chung-yi, Taipei Times
The TransAsia Airways plane from Greater Kaohsiung crashed near Magong Airport's runway with 54 passengers and four crew on board on Wednesday night, killing 48 and wounding 10.
One of the survivors, a 28-year-old woman named Chen Ya-chuan (陳雅娟), was only slightly injured and has returned home to recuperate.
Tri-Service General Hospital's Penghu Branch supervisor Shih Hung-chou (施洪州) said one of the passengers treated by the hospital is a female suffering an intracerebral hemorrhage. Her identity was confirmed late yesterday as Chen Pei-hua (陳培樺).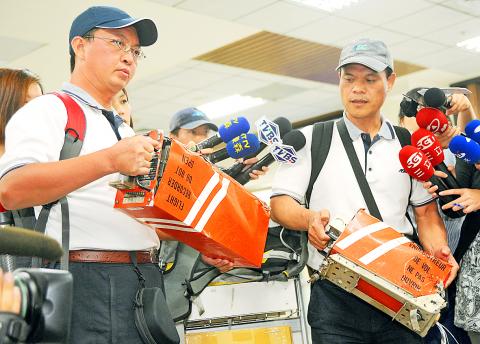 Aviation Safety Council officials hold the two black boxes from the TransAsia Airways flight that crashed at Magong airport in Penghu County on Wednesday, after bringing them to Taipei yesterday.
Photo: Liu Hsin-de, Taipei Times
"The other one is a 44-year-old man surnamed Chang (張), who has severe abdominal bleeding and hemothorax as he suffered a broken rib that punctured an artery," Shih said.
Among the seven surviving passengers is a 10-year-old girl named Lee Wei-tung (李緯彤), who suffered smoke inhalation and is being closely monitored by the Mackay Memorial Hospital's burns unit, Chang Wen-han (張文瀚), a staff member in the hospital's emergency department, told reporters yesterday.
"The girl also sustained minor burns on her left shank and wounds on her right thigh, which are all under control," Chang Wen-han said.
Others survivors included 70-year-old Wu Chang-lou (吳昌樓), who sustained multiple rib fractures with third-degree burns covering 30 percent of his body; 34-year-old Hsu Yu-chieh (許瑀睫), who suffered spinal compression fractures and second-degree burns; 30-year-old Yan Wan-ju (顏婉茹) and her colleague, 27-year-old Tsai Pei-ju (蔡佩儒), both of whom sustained multiple fractures and abrasion wounds; 34-year-old Hung Yu-ting (洪郁婷), who suffered facial bone fractures and second-to-third degree burns; and 63-year-old Lee Shun-chi (李順己), who suffered multiple second-degree burns.
Comments will be moderated. Keep comments relevant to the article. Remarks containing abusive and obscene language, personal attacks of any kind or promotion will be removed and the user banned. Final decision will be at the discretion of the Taipei Times.