KMT defied will of public, Three Principles: Soong
People First Party (PFP) Chairman James Soong (宋楚瑜) yesterday said the Chinese Nationalist Party (KMT) has been unable to effectively utilize its majority in the Legislative Yuan because of its determination to go against the will of the public.
President Ma Ying-jeou's (馬英九) administration has not implemented any of the ideals of Republic of China founding father Sun Yat-sen's (孫逸仙) Three Principles of the People (三民主義), such as equal distribution of wealth and equality of land owning rights, Soong said.
The Three Principles of the People was Sun's political philosophy and describes his vision of democratic government according to the principles of democracy, nationalism and livelihood.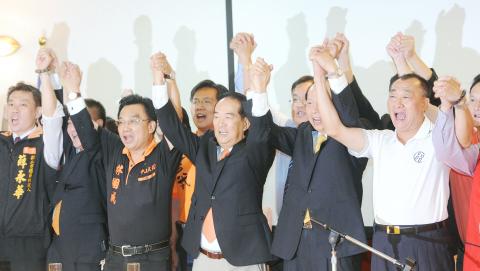 People First Party (PFP) Chairman James Soong, front center, and PFP candidates in the Nov. 29 local elections clasp hands and chant slogans at a party pre-election conference in Taipei yesterday.
Photo: Liu Hsin-de, Taipei Times
Soong said that the Ma administration has "distributed the wealth of ordinary people among capitalist corporations," adding that in terms of equality of land-ownership rights, "the government is like a bandit, not equalizing the rights of the people to own land, but robbing personal property for the benefit of large corporations."
Pointing to the Taipei City Government as an example, Soong said while it is spending between NT$30 billion and NT$40 billion (US$999 million and US$1.3 billion) to host the Universiade, it is raising tuition fees to subsidize the spending.
Students from less well-off families are unable to pay tuition fees, Soong said, adding "this is a true tragedy for Taiwan."
The government should not become a tool for corporations to use to rake in money, and should not help corporations oppress the common people, Soong said as he encouraged PFP-nominated candidates to do their best to obtain seats on city councils in the Nov. 29 elections to better the lives of ordinary Taiwanese.
Comments will be moderated. Keep comments relevant to the article. Remarks containing abusive and obscene language, personal attacks of any kind or promotion will be removed and the user banned. Final decision will be at the discretion of the Taipei Times.