Tsunami survivor piano on display at Taipei store
A grand piano now on display at a Taipei department store is no ordinary instrument — it was damaged, seemingly beyond repair, by the 2011 earthquake and tsunami disaster in Japan.
Dubbed the "Miracle Piano," it used to belong to a high school in Fukushima Prefecture, one of the areas hardest hit in the disaster.
It is on display at the Dayeh Takashimaya department store in Tianmu (天母), which has organized events to commemorate both the disaster and the outpouring of donations from Taiwan to Japan in the afterwards. The events run through Sunday.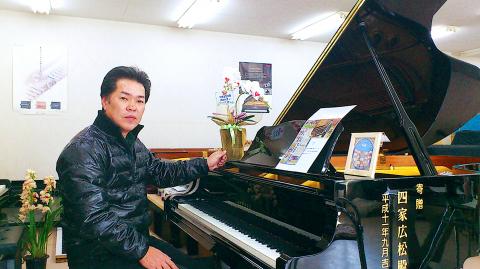 Japanese piano tuner Hiroshi Endo sits next to the tsunami-damaged grand piano that he restored, in an undated photograph.
Photo: CNA
Washed away by the tsunami, the piano was later found caked in mud and seemingly beyond repair.
Piano tuner Hiroshi Endo, who lives in the Fukushima area, decided to try and fix it.
Endo, who is in Taipei along with the piano, said he spent about six months restoring it.
Although the task was so difficult that he was sometimes inclined to give up, Endo said he kept at it because he wanted to do something to encourage survivors of the disaster.
The repaired piano has been seen as "a symbol of hope" for the people rolling up their sleeves to rebuild their homes, he said through an interpreter at a concert at the store on Sunday.
Taiwanese pianist Huang Yu-hsiang (黃裕翔) was invited to play the Miracle Piano, attracting interest from dozens of shoppers.
"I wanted to use music to encourage the affected residents in Japan," said the blind pianist, who traveled to the hard-hit areas last year to perform.
Comments will be moderated. Keep comments relevant to the article. Remarks containing abusive and obscene language, personal attacks of any kind or promotion will be removed and the user banned. Final decision will be at the discretion of the Taipei Times.