Taipei's social welfare unit accused of discrimination
HOUSING PROBLEM: Complaints have been raised about a Harmony Home facility in Wenshan that the NIA has been referring migrants with children to
The Taipei City Government has reportedly asked the National Immigration Agency (NIA) to stop sending foreign migrants in need of aid to a charity because of "protests from community residents" who live near one of the charity's facilities, triggering allegations of discrimination by city officials.
Police officers frequently visited Harmony Home Association's house in Wenshan District (文山) in March and the city's Department of Social Welfare in May began asking it in May to stop referring migrants needing temporary accommodation or assistance to the Wenshan facility, association secretary-general Yang Chieh-yu (楊婕妤) said yesterday.
The association has facilities nationwide that mainly provide care to people with HIV. It also began offering temporary residence years ago to foreign migrants and their children in need of housing assistance, medical attention or who are awaiting deportation.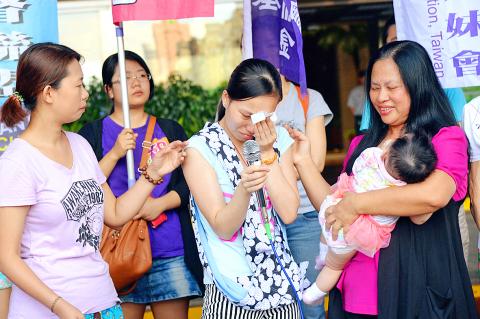 Residents and supporters of a Harmony Home Association facility in Taipei's Wenshan District gather outside City Hall on Monday to protest against alleged discrimination by the city government's Department of Social Welfare.
Photo: CNA
The association, along with several other human rights and migrant groups, protested outside City Hall on Monday, berating the city government for what they said was its "superciliousness of the public office of the 'kingdom of the celestial dragons,'" a term meaning a kingdom only for nobles borrowed from the Japanese-language comic One Piece and now often used to describe the nation's capital.
The Social Welfare Department said that it contacted the NIA because Wenshan residents have complained about the Harmony Home house in their district "harming children's rights."
"Residents who complained said they had seen small children [at the house] staying too close to the banisters and teenagers smoking," a department officer surnamed Shih (石) told the Taipei Times yesterday.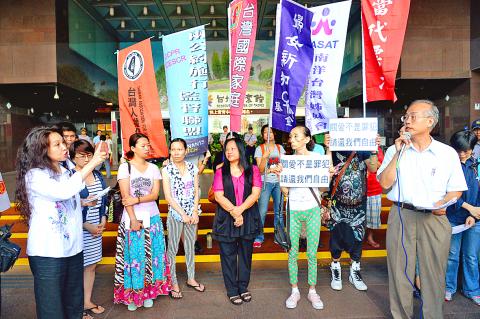 Taipei City Department of Social Welfare Deputy Commissioner Huang Ching-kao, right, talks to supporters of the Harmony Home Association and other groups outside City Hall on Monday.
Photo: CNA
The department issued a press release on Sunday that said the children's rights might be "significantly affected" because "foreigners, with complicated backgrounds, could freely move in and out of the facility without restraint" and because of "insufficient space [for the housed children]" at the facility.
Shih also said that the house has not been properly registered with the Taipei City Government.
Yang said the Wenshan facility is not a long-term children's welfare institute, but one that offers temporary housing and assistance to migrant mothers who are HIV-positive because they were infected by their husbands or who were fired by their employers due to pregnancy or sickness, and their children.
"The house in Wenshan is a women and children's house, and its inhabitants are children with their mothers," Yang said.
As for the facility not being legally registered, Yang said it was in a kind of legal limbo.
"The government does not have laws for these kinds of temporary homes to begin with. This is a social problem and not only has the government failed to come up with public policies to resolve the situation, now it wants to repress a non-governmental organization that is trying to help," Yang said.
According to Yang, an immigration agency official said Social Welfare Department Commissioner Wang Hao (王浩) had severely criticized immigration officials during intra-departmental meetings for "dumping garbage to Taipei, using the city as if it were a backyard trashcan."
Human rights groups slammed the city government and Wang Hao's attitude as extremely discriminatory, while "they are supposed to take on the role of educating the public against discrimination."
This is not the first time the facility in Wenshan has been the subject of much debate among area residents. Residents who did not want people with HIV in their neighborhood created a fuss in 2004, and the association ended up in court.
"The [court verdict in the] first instance ruled against us, claiming that all individuals are entitled to freedom from fear. We appealed the ruling and finally won the case in 2007," Yang said.
Comments will be moderated. Keep comments relevant to the article. Remarks containing abusive and obscene language, personal attacks of any kind or promotion will be removed and the user banned. Final decision will be at the discretion of the Taipei Times.