FEATURE: Taiwan hopes to lure engaged couples
WEDDING PHOTO KINGDOM? The Tourism Bureau is eager to promote the nation as great place for wedding photography, citing scenic locations and attractive prices
At a wedding photography exhibition in Hong Kong last year, 29-year-old Emila Ma and her fiance were quite excited as they initialed a contract at a Taiwanese wedding photography company's booth for a four-day trip for their photo shoot.
Increasing numbers of young couples abroad are choosing to come to Taiwan to shoot their wedding photographs due to the nation's spectacular and varied scenery and the photography package prices.
According to the Taipei-based Wedding Photography Association, more than 5,000 couples from abroad choose Taiwan for their wedding photos last year at an average rate of 425 couples per month.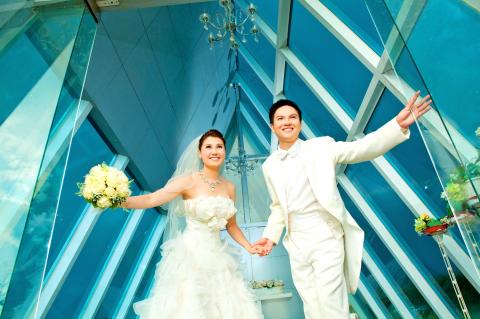 A couple in wedding attire pose in Taipei on June 15.
Photo: CNA
More than 65 percent of couples came from Hong Kong and Macau, the association said.
Ma, who works at a bank, said it was increasingly popular in Hong Kong for engaged couples to go to Taiwan to have their wedding photos taken, citing prices, varied scenery and creative ideas as incentives.
Emily chose New Taipei City's Tamsui (淡水) and its "wedding photography base" for her photo shoot.
The "bases" are the brainchild of wedding photography companies and include a variety of backgrounds, such as "scholarly" buildings; juancun (眷村), or military family villages, to convey a nostalgic atmosphere; European-style settings; floating chapels; luxurious settings similar to those seen in South Korean television series; and underwater shots.
The "bases" are meant to cut down on the time needed to reach various scenic sties, the companies said, adding that the bases have not only proven popular with foreign clients, but helped win a slice of the domestic market as well.
The bases help reduce logistics problems for the photographers and the amount of time for the photo shoot as the team only has to go to one location to find a wide variety of scenery.
In Ma's case, she chose her outfits and went over the details of the photo shoot on the first day of her trip and the photo shoot took up the second day. On the third day the couple was able to take a tour of "must visit" sites in Taiwan, thanks to the Taiwan High Speed Rail.
On their last day in Taiwan, the couple returned to the wedding photo company and chose the photographs they wanted, Ma said, adding that they received their wedding album two months after they returned home.
The wedding photo session cost NT$40,000 (US$1,335), after a 40 percent discount, or about the price it would have cost in Hong Kong, Ma said.
Tracy Wong from Macau did her photo shoot in Taiwan in April.
Aside from having met her husband in Taiwan while they were both studying at the division of preparatory programs for overseas Chinese at the National Taiwan Normal University, Wong said they chose Taiwan because conditions here are more liberal.
Wong said she liked that they could leave the company's "base" and go to other locations, adding that they had visited the Gaomei Wetland Preservation Area in Pingtung County, New Taipei City's Pingsi (平溪) and a military dependents' villages.
A key element of photo shoots in Taiwan is the simplicity and the naturalness of the shoots, Wong said.
The Tourism Bureau estimates that the wedding-photography industry could contribute NT$225 million per year to the economy — including hotels, meals, ground transportation and incidentals — if foreign couples stayed an average of four days on a photo-shoot trip and paid an average of NT$35,000 for their photography package.
Taiwan has a unique style of wedding photography and can hold its own in the international community, Tourism Bureau Deputy Director Liu Hsi-lin (劉喜林) said, adding that the bureau has made honeymoon travel a focus of development.
There is still a lot of room for improvement on handling weddings and wedding photography, Liu said, adding that the wedding industry has a bright future as it can utilize the creativity which Taiwan is known for to arrange every aspect of a wedding.
Creativity is in part the primary reason the wedding industry has been able to make a name for itself in the Asia, and the success is done to the wedding photography companies themselves, Liu said.
Wedding Photography Association president Dai Sheng-ho (戴勝和) said the average price for a wedding package was between NT$50,000 to NT$60,000, adding that most of the foreign clientele were from nearby nations or were of ethnic Chinese descent.
The average package cost and fringe benefits to tourism puts the average expenditure per couple at NT$150,000 to NT$200,000, Dai said.
Taiwan has the potential to develop into a wedding photography kingdom, since it has perhaps the highest density of wedding photographers, Dai said.
However, rules and regulations, as well as certification, must first be put in place to ensure quality of service, Dai said.
Publication Notes
Immortalizing a couple
‧ More than 5,000 couples visited Taiwan last year to have their wedding photos taken.
‧ Couples from Hong Kong and Macau accounted for more than half of the number.
‧ Four-day package trips are popular, allowing one day to arrange the logistics, one day of photography, one day for sightseeing and then selection of the wedding album photos on the final day.
‧ Wedding photo packages average about NT$50,000 to NT$60,000.
‧ Wedding shoot "bases" that provide a variety of backdrops in one location or in close proximity are popular.
Comments will be moderated. Keep comments relevant to the article. Remarks containing abusive and obscene language, personal attacks of any kind or promotion will be removed and the user banned. Final decision will be at the discretion of the Taipei Times.