Micro-calligrapher completes 23m-long scroll
Chang Hou-lun (章厚倫), a calligrapher in Miaoli County, may have set a world record by completing a handwritten micro-calligraphic copy of the more than 71,000-character classical Chinese novel, Dream of the Red Chamber (紅樓夢), with each character measuring just 2.2mm in height.
Chang, 60, said he has always been interested in calligraphy, and started learning at the age of 13.
He first learned from writings of well-known classical Chinese calligraphers, such as Liu Gongquan (柳公權), Wang Xizhi (王羲之) and Huang Ziyuan (黃自元), and later blended the styles of those calligraphers to make his own unique style.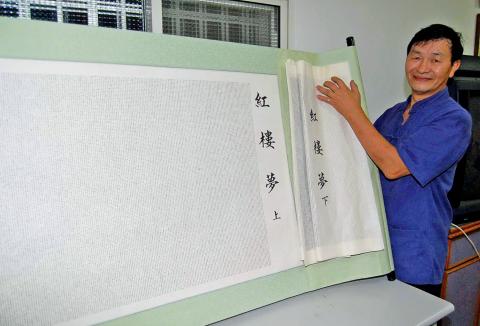 Calligrapher Chang Hou-lun displays two scrolls in Miaoli County on Friday last week. The scrolls contain the classic novel Dream of the Red Chamber written by Chang in 2.2mm high characters.
Photo: Chang Hsun-teng, Taipei Times
In addition to improving his own skills, he is an enthusiastic teacher who spends time traveling around the country to teach calligraphy.
Chang has devoted himself to micro-calligraphy, shrinking the size of each character from 1cm to 8, 5 or 3 millimeters.
Three years ago, he completed a calligraphy edition of the 400,000-character General History of Taiwan (台灣通史), with each character measuring just 2.6mm.
"China is not any better than Taiwan in terms of calligraphy," Chang said, adding that he challenged himself to complete Dream of the Red Chamber with even smaller characters.
Chang said that he writes 1,000 characters a day, and due to the size of the characters, he needs to keep his mind focused when writing.
Chang said that he still makes a few mistakes, adding that there have been times when he discovered he had made a mistake after completing 20,000 characters, but he did not hesitate to start over.
It took Chang two years to complete the 23m scroll.
Due to the small size of the characters, Chang said that from a distance it looks like there is nothing written on the scroll.
Chang attended a calligraphy event in Beijing a few days ago, and said he was proud to see his work amazed Chinese calligraphers at the event.
"I might be the first person in the world to have completed a copy of the Dream of the Red Chamber in such small characters," he said.
The work is to be exhibited in Beijing in August, with Chang saying that he is confident it will show that Taiwan is the best in terms of Chinese calligraphy.
Comments will be moderated. Keep comments relevant to the article. Remarks containing abusive and obscene language, personal attacks of any kind or promotion will be removed and the user banned. Final decision will be at the discretion of the Taipei Times.