Ministry honors Chin for contributions to civil aviation
The Ministry of Transportation and Communications yesterday awarded a First-Grade Transport Professional Medal to 101-year-old Chin Moon Fun (陳文寬), one of the cofounders of TransAsia Airways (復興航空), for his outstanding contributions to the nation's civil aviation industry.
Chin, who flew in from San Francisco to accept the award in person, said in a speech that he was honored to witness the development of the nation's civil aviation industry.
Chin was the first recipient of a commercial aviation license in Taiwan and cofounded the first civil carrier in 1951, Civil Aeronautics Administration Director-General Jean Shen (沈啟) said.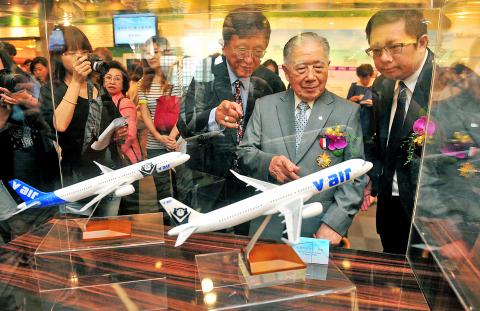 TransAsia Airways Corp chairman Vincent Lin, right, and company cofounder Chin Moon Fun, second right, visit an exhibition showcasing Chin's achievements in Taipei yesterday.
Photo: Chien Jung-fong, Taipei Times
"He was one of the rare people who knew not only how to fly and repair an aircraft, but also how to manage an airline company," Shen said. "In the 1930s, he accomplished many impossible missions, despite the poor navigation equipment at the time."
Shen mentioned one of Chin's assignments in 1952 as an example, in which he was ordered to bring supplies to the town of Mong Hsat in northern Myanmar (Burma), where the Chinese Nationalist Army stationed in southwest China retreated following the Civil War in China. To save on gas, Chen kept his plane at a low altitude of less than 152m over the Taiwan Strait and flew along the Mekong River to Mong Hsat.
"He said he was able to reach Mong Hsat by applying IFR — meaning 'I follow the river,' not the aviation term 'instrument flight rules,'" Shen said.
Minister of Transportation and Communications Yeh Kuang-shih (葉匡時) said he was inspired by Chen's spirit of adventure, which was founded on his knowledge of flying.
Retired aerospace engineer Wang Li-jen (王立楨), who has written two books on Chin, said Chin returned to China in the 1930s after he finished his training at the Curtis Wright Flying School in Baltimore, Maryland. Chin worked as a pilot and aircraft maintenance technician at the China National Aviation Corp (CNAC) and had trained late Republic of China (ROC) Air Force General I Fuen (衣復恩) in 1939.
"During that time, Chin witnessed how the Chinese pilots were being unfairly treated, despite the fact that they did the same amount of work as foreign pilots," Wang said.
Although Chin was trained as a civil aviation pilot, Wang said Chin was commissioned by the Chinese Nationalist government to bring supplies to different zones in China during World War II.
According to Wang, Chin had flown over the eastern end of the Himalayan Mountains, also known as the Hump among the Allied Forces during World War II, to provide logistics support to southwest China in 1942.
In the same year, he was ordered to rescue CNAC workers and equipment in Myitkyina in Myanmar and pick up late US lieutenant general James Doolittle at Chongqing to bring him to Calcutta India.
Wang said TransAsia Airways was founded on the request from the government's intelligence service.
"Many of the secret agents were unable to leave China after 1949, so the government wanted him [Chin] to operate seaplanes to offer supplies to these people or send new agents in and bring the old ones out," Wang said. "So at the initial stage, 80 percent of the airline's operation was to carry out tasks that the ROC Air Force could not do."
TransAsia was also actively engaged in the rescue efforts over the sea in the 1950s, Wang said.
TransAsia Airways has also built airports in Lishan (梨山) and Sun Moon Lake (日月潭), and founded in 1966 its catering services to offer meals on international flights. The airline is now owned by Goldsun Development and Construction Corp, which took over its operations in 1983.
Comments will be moderated. Keep comments relevant to the article. Remarks containing abusive and obscene language, personal attacks of any kind or promotion will be removed and the user banned. Final decision will be at the discretion of the Taipei Times.