Central areas hit by heavy rain
EMERGENCY ROOM: Heavy rainfall caused flooding in the Chiayi Christian Hospital, forcing staff to temporarily move patients to the hallways
Central parts of the nation were pummeled by heavy rain yesterday, causing a temporary suspension of rail services on certain routes, as well as flooding in several places.
The area most severely affected by the rain brought by a stationary front was Chiayi City, which saw 235.5mm of precipitation between 12am and 8pm yesterday.
The rain in the city peaked between 11am and 12pm, during which 116.5mm of rain fell.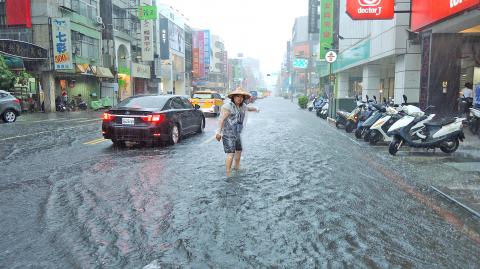 A woman stands ankle-deep in water on a flooded street in Chiayi City yesterday following torrential rain.
Photo: Ting Wei-chieh, Taipei Times
The region's accumulated rainfall topped 205mm at 3pm, which met the Central Weather Bureau's (CWB) definition for "torrential rain."
Precipitation is categorized as heavy rain, extremely heavy rain or torrential rain if it exceeds 50mm, 130mm or 200mm within 24 hours respectively.
Due to poor visibility and flooding caused by the rainfall on several sections of railroad tracks in both Chiayi city and county, the Taiwan Railways Administration (TRA) ordered the suspension of all train services between Minsyong (民雄) and Nanjing (南靖) stations at noon, affecting a total of 11 trains and approximately 2,000 passengers.
Flood-damaged watermelons lie beside a waterlogged field in Yunlin County yesterday.
Photo: Lin Kuo-hsien, Taipei Times
Service on the section between Minsyong and Chiayi stations was resumed at 12:30pm, while full service was restored at 1:15pm.
The rains also inundated the emergency room of the Chiayi Christian Hospital, where staff members were forced to temporarily move patients to the hallways.
It took the hospital nearly an hour to remove all the floodwater and resume normal operations.
In addition to Chiayi city and county, the Ministry of Economic Affairs' Water Resources Agency yesterday afternoon also issued flood warnings to residents of Changhua and Yunlin counties, as well as Greater Tainan and Kaohsiung.
Trailing behind Chiayi City with the most rainfall yesterday were Chiayi County's Taibao City (太保) with 219.5mm of precipitation, Yunlin County's Baojhong Township (褒忠) with 212mm, Chiayi County's Shueishang Township (水上) with 204mm and Yunlin's Sihhu Township (四湖) with 200.5mm.
Agricultural losses were reported in Yunlin's Dongshih Township (東勢), where peanut and watermelon fields were engulfed by water.
A watermelon farmer, surnamed Yang (楊), said the flood ravaged his crops and caused nearly NT$300,000 in damage.
The weather bureau said it was unusual for more than 100mm of rain to fall within an hour, even during the plum rain season.
"This stationary front is expected to linger over Taiwan until next week and the public should prepare themselves for … sudden pouring rains, occasional lightning strikes and strong gusts of wind," the bureau said.
Comments will be moderated. Keep comments relevant to the article. Remarks containing abusive and obscene language, personal attacks of any kind or promotion will be removed and the user banned. Final decision will be at the discretion of the Taipei Times.