Foundation urges national 'healing' after MRT attack
Alliance Cultural Foundation chairman Stanley Yen (嚴長壽) has called for the nation to undergo "group healing" to give society the positive strength it needs following last week's fatal stabbings on the Taipei Mass Rapid Transit system.
The killing of four passengers on an MRT car on Wednesday last week was allegedly carried out by a 21-year-old university student. A total of 23 people were wounded in the attack.
Yen, whose foundation is devoted to promoting the public interest, said that no matter who they are, people need to put away their computers, leave the virtual world, make contact with "real" people and embrace them.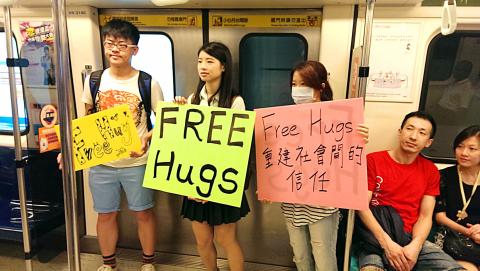 National Central University student Shen Yu-yin, center, and two friends offer free hugs to commuters on a car in Taipei's Mass Rapid Transit system yesterday, following Wednesday's fatal stabbing of four passengers.
Photo: Su Fang-ho, Taipei Times
In a speech titled "You are the starting point of change" delivered in Greater Taichung on Saturday, Yen, a successful hotelier, blamed stabbing suspect Cheng Chieh's (鄭捷) alleged actions on his obsession with the online world.
Yen described virtual reality as a world "without governments, boundaries or teachers," in which young people can play war games and simulate killing without restrictions. These people can easily develop deviant tendencies if no one reminds them of the difference between the real and virtual world, Yen added.
No one person should be blamed for the metro killings as the fault lies with the nation's schools, families and society, Yen said, calling for all parents and teachers across the country to engage in self-reflection and determine if they are teaching children the appropriate life values and the right ways to learn.
Some people have blamed Cheng's parents for his alleged actions, but Chang Hui-chun (張惠君), wife of Examination Yuan President John Kuan (關中), said that parents are not gods.
"The whole of society should shoulder the responsibility of educating the next generation," said Chang, whose only daughter committed suicide three years ago.
When a tragedy occurs, people are used to blaming the parents, Chang said, adding that she was "once the target of such blame."
After the death of her daughter, Chang said she examined herself and realized that "in the past, I only taught her [my daughter] how to pursue happiness, but never showed her how to face misfortune."
Speaking of the MRT stabbings, Chang, a former middle-school teacher, said that in a modern world in which most children have access to computers or possess a smartphone, it is hard for parents to control what their children do online.
While many across the nation reflected on the implications of the tragedy, the families of the victims continued to grieve, but some still had messages of forgiveness.
When she identified her husband's body at a hospital after the attack, the wife of 28-year-old Hsieh Ching-yun (解青雲), surnamed Chen (陳), was overwhelmed with grief, crying out: "Give me back my husband."
Two days later, she held a press conference where she said she had decided to "put away her hatred."
Chen said she gave up her anger because she did not want her two children to grow up in a pessimistic, hateful environment.
"I'll teach my children to be good and optimistic forever," she said through tears.
Comments will be moderated. Keep comments relevant to the article. Remarks containing abusive and obscene language, personal attacks of any kind or promotion will be removed and the user banned. Final decision will be at the discretion of the Taipei Times.