Man detained in slaying of father of 'ex-girlfriend'
JILTED: A man on leave from studying history at Soochow University was questioned after the fatal stabbing of a 55-year-old, Hsinchu City police said
A 22-year-old student was arrested and held in custody in Hsinchu City yesterday, in relation to the death of the father of his ex-girlfriend.
The alleged assailant, surnamed Lee (李), lives in Greater Taichung and was on leave from his history studies at Soochow University in Taipei.
Lee was quoted by police as saying that he had dated a student surnamed Hung (洪), adding that she broke up with him and "then my love for her turned into hate. So I decided to kill her."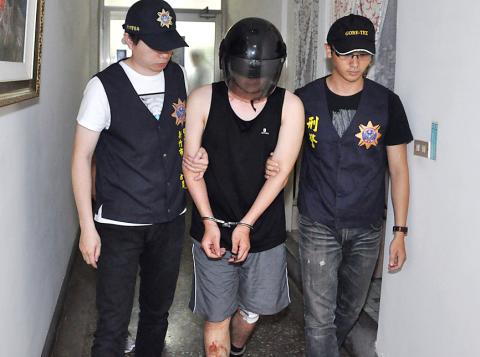 A man surnamed Lee, center, is yesterday taken away from the Hsinchu City home of a man surnamed Hung by Hsinchu City police on suspicion of having stabbed and killed Hung.
Photo: CNA
Lee said he bought two kitchen knives last week and rode his motorcycle from Greater Taichung to Hung's home in Hsinchu City yesterday morning, carrying the two knives on his knapsack.
Arriving at her place at about 5am, Lee said he waited with the intent to kill Hung when she opened the door to go out, police said.
At about 7am, Hung's father, 55, opened the door, Lee was quoted by police as saying, adding that he demanded to know why Hung was not home, to which the father asked: "Who are you? What do you want?"
Lee was quoted by police as saying that he "lost his mind" at that point and attacked Hung's father with a knife.
The deceased man was stabbed once in the chest and once in the back, and suffered three cuts to his left arm.
After Hung's father had fallen, Lee allegedly fled on foot. A neighbor heard the commotion and called the police for help. A patrol officer was nearby and quickly caught the suspect, police said.
Hung's father was rushed to hospital, but died at about noon, police said.
Hung's family said they had never heard Hung talk about Lee.
Hung began working in Macau after graduating from university, her family added.
After being contacted, Lee's father went to Hsinchu City to be questioned by police, where he broke down, talking about his son.
Lee's father said his son had suffered from bipolar disorder for more than two years.
"His condition was unstable," Lee's father said. "After taking leave from his studies at Soochow University in October last year, he often threatened to kill his mother and girlfriend. I was very worried and kept a close watch on him."
"I regret that during just one small lapse from my close watch, he headed out to commit this terrible murder," he added.
Comments will be moderated. Keep comments relevant to the article. Remarks containing abusive and obscene language, personal attacks of any kind or promotion will be removed and the user banned. Final decision will be at the discretion of the Taipei Times.