RAIL RAMPAGE: Apology by parents falls flat for critics
FALLOUT: While psychiatrists said that families of those who commit heinous acts are susceptible to trauma, city officials said helping victims was their top priority
An apology offered on Friday by the parents of Cheng Chieh (鄭捷), the suspect in Wednesday's fatal transit knife attack, has met mixed reactions from the public.
Some said that Cheng's parents were insincere because they did not apologize in person, while others said that Cheng's parents were not the perpetrators of the alleged crime and needed sympathy for what they have endured.
Family of criminals often experience psychological trauma after such incidents, psychiatrists said, adding that relatives and friends of Cheng's family should support them through these difficult times.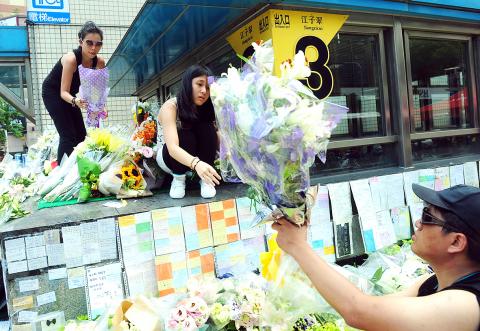 People place bouquets at exit No. 3 of Jiangzicui Station on Taipei's Bannan MRT line yesterday in memory of the victims of Wednesday's deadly transit attack.
Photo: Lo Pei-der, Taipei Times
Related government departments in Taipei and New Taipei City said they considered taking care of witnesses and victims to be a priority and thus would not contact Cheng's family.
Cheng has been detained in relation to a knife attack on Wednesday that left four people dead and 24 injured.
On Friday, New Taipei City Councilor Lin Kuo-chun (林國春), who lives in the same neighborhood as the Cheng family, read the apology written by Cheng's parents, in which they said they blamed themselves for their son's behavior and would not evade responsibility.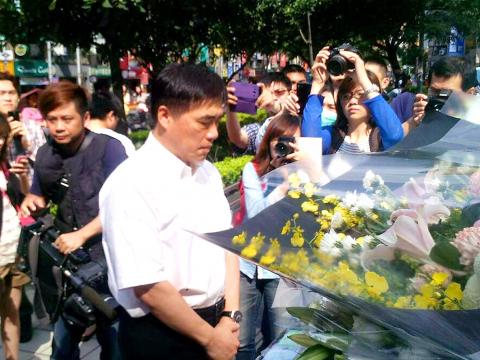 Taipei Mayor Hau Lung-bin yesterday pays his respects to the victims of Wednesday's fatal MRT knife attack outside Taipei's Jiangzicui MRT Station.
Photo: CNA
Cheng's parents expressed their pain, shock and confusion, and wrote that, no matter how much they apologize, it would never be enough to make up for the pain and suffering victims and their families are experiencing.
They appealed for people not to imitate the attack, saying no one is able to endure the consequences of families being ruined and family members dying.
Cheng's father called Lin's office three times after the incident, the councilor said.
"His voice sounded weak and he said that he was so feeble and had no strength. He said that Cheng's mother was feeling ill," Lin said.
Psychiatrist Yang Tsung-tsai (楊聰財) said there could be multiple forms of psychological trauma exhibited by Cheng's family because they have to deal with the effects of what Yang described as "the hideous crime" Cheng is suspected of committing and the ensuing lawsuits and legal punishment imposed if Cheng is found guilty, and also would be assailed with criticism over their parenting.
The experience of the family of the perpetrator of Japan's 2008 Akihabara mass murder that left seven dead and 10 injured demonstrates how devastating the trauma could be, Yang said.
In that case, public accusations and scrutiny so affected the killer's mother that she had to be hospitalized, his father quit his job to live in seclusion and his younger bother killed himself six years later, in April this year.
Comments will be moderated. Keep comments relevant to the article. Remarks containing abusive and obscene language, personal attacks of any kind or promotion will be removed and the user banned. Final decision will be at the discretion of the Taipei Times.