Foreigner's cleanup work inspires online reflection
LITTER-ATI: After helping a US expat who was collecting garbage at a Taitung harbor, a local man sparked online interest and potential action with photos and his story
A US man's cleanup efforts at an east coast harbor have many locals giving him the thumbs-up, but also prompt self-reflection over Taiwanese throw-away habits and pervasive trash problems in the nation.
A local man with the online name of "Randy Hou" said he went fishing at the Fugang Harbor (富岡) in Taitung on Wednesday, where he saw a foreigner picking up trash, using a long bamboo pole with a collecting contraption at its end.
At first, Hou thought the foreigner was a hired worker for Taitung's harbor authority. He was surprised to find that was not the case.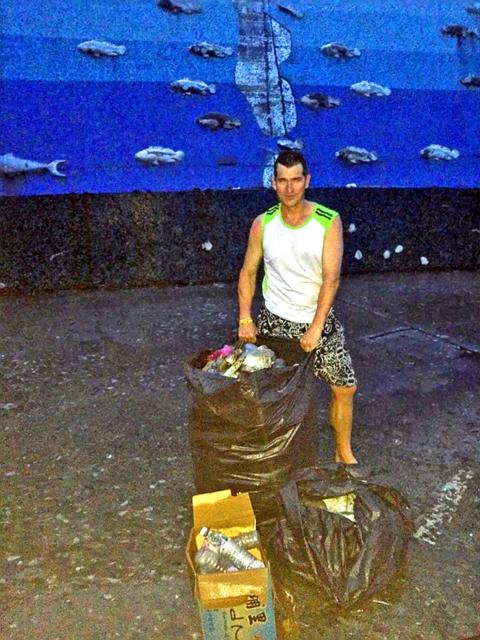 A US expat named Chris cleans up trash at Fugang Harbor in Taitung City on Wednesday. The photo was taken by a local man surnamed Hou who put the photo on Facebook where it received more than 6,000 "likes."
Photo: CNA
The foreigner was a 44-year-old called "Chris," who told Hou that he was doing it on his own because "the harbor looked kind of dirty."
"Taitung is beautiful. There should not be trash lying around here!" Hou said Chris told him, adding: "I really love the scenic landscape of Taitung. It is my first time sailing my yacht here [from Tainan]. But I felt very sad to see so much trash in the harbor."
"I do not expect people to voluntarily pick up trash near them, but I do hope Taitung residents stop throwing garbage around. If there is no littering, then there is no need for someone to pick up litter. Let's all keep Taitung beautiful," Chris said, according to Hou.
Hou was moved by the US man's action, while they kept talking and Hou joined the cleanup effort. They soon collected enough plastic bottles, wine bottles and other garbage to fill two massive garbage bags.
After going home, Hou wrote online about meeting Chris and their efforts, and posted photographs on Facebook.
Hou's post gained traction, inspiring one netizen to respond, "Even a foreigner knows to keep the environment clean. Why do Taitung residents not know this?"
Another wrote: "This is so embarrassing. Taiwan's trash has to be cleaned up by foreigners."
Other people were moved into action, proposing to start group cleanup campaigns at the nation's seashores, beaches and harbors.
Hou found out that Chris came to Taiwan when he was 30. He loved it so much that he decided to stay and live in the nation. Currently, he sells yachts in Greater Tainan.
Hou was impressed enough to write: "This foreigner was not born here or grow up in this country. But because he often visits Taitung, he was more in love and protective of this land than I, a native."
Hou thanked Chris, on behalf of all Taitung people, while urging all Taiwanese to work toward a clean environment for their homeland.
Within a day of Hou's posting, the page has received more than 6,000 "likes," with more people advocating for group efforts to clean up coastal areas, targeting different sites for upcoming weekends.
Comments will be moderated. Keep comments relevant to the article. Remarks containing abusive and obscene language, personal attacks of any kind or promotion will be removed and the user banned. Final decision will be at the discretion of the Taipei Times.