Showdown over bet sees Tainan councilor resign
ONE OUT OF TWO: Despite the exact conditions of the wager not being met, Hsieh Lung-chieh resigned over the conviction of a former secretary-general of the DPP
A bet made between Greater Tainan Mayor William Lai (賴清德) and Greater Tainan Councilor Hsieh Lung-chieh (謝龍介) of the Chinese Nationalist Party (KMT) last year over the legal innocence of two Democratic Progressive Party (DPP) members yesterday escalated into a dramatic showdown, which resulted in one stepping down and the other being taken to court.
The bet was over a breach of trust case against former DPP secretary-general Wu Nai-jen (吳乃仁) and former DPP legislator Hong Chi-chang (洪奇昌) that involved the 2003 sale of a property belonging to Taiwan Sugar Corp (Taisugar) in then-Taichung County.
Wu, who served as Taisugar chairman between April 2002 and December 2003, was accused of giving in to Hong's lobbying for property developer Chun Lung Co (春龍開發公司) and ensuring that it won the right to purchase a plot of land it was renting from Taisugar.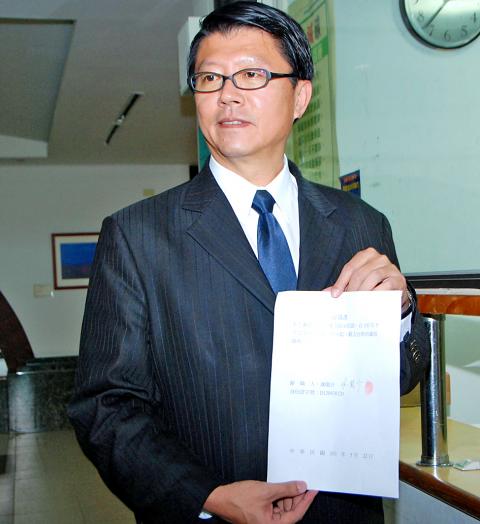 Chinese Nationalist Party (KMT) Greater Tainan City Councilor Hsieh Lung-chieh holds up his letter of resignation at the Greater Tainan City Council yesterday. He resigned over a bet with Greater Tainan Mayor William Lai.
Photo: CNA
At a press conference on March 24 last year, Lai staked his political career on the innocence of the pair in the case. One day later, Hsieh pledged to step down if the duo were both found not guilty.
On March 26 this year, the Taiwan High Court sentenced Wu to nine months in prison for violating Taisugar's "rent only" policy on its properties and causing losses to the company by selling the land in question, while Hong was acquitted.
During a question-and-answer session at the Greater Tainan Council yesterday, Hsieh accused Lai of going back on his promise and demanded that he resign before Wu begins serving his jail term on Monday.
Lai rejected the demand and told Hsieh he should step down first.
"I insist on adhering to the highest moral standards, despite Wu being the only one found guilty. I hereby announce my resignation," Hsieh replied.
After submitting his resignation, Hsieh went to the Tainan District Prosecutors' Office to file a formal accusation, which alleged that Lai had rigged the bidding process for a build-operate-transfer project involving Greater Tainan's Anping Canal (安平運河).
Comments will be moderated. Keep comments relevant to the article. Remarks containing abusive and obscene language, personal attacks of any kind or promotion will be removed and the user banned. Final decision will be at the discretion of the Taipei Times.