INTERVIEW: Tennis star urges better sports policy
PUBLIC GAIN: Rather than investing in stadiums for a sports event in 2017, Lu said the government should upgrade existing venues and boost public education
International sports events provide a major opportunity for a marginalized country like Taiwan to boost its global profile, but to top-flight tennis player Lu Yen-hsun (盧彥勳), they are also a chance for the government to make a difference to the nation's sports industry and boost the health of Taiwanese.
Lu, a 30-year-old tennis veteran with 14 years of experience and 107 wins, made the remarks in an interview with the Liberty Times (the Taipei Times' sister newspaper).
Ahead of Taipei hosting the 2017 Summer Universiade, which is expected to cost the nation about NT$37 billion (US$1.2 billion), Lu believes that the government can renovate the nation's existing sports infrastructure and make a real push to promote sports and fitness among the public.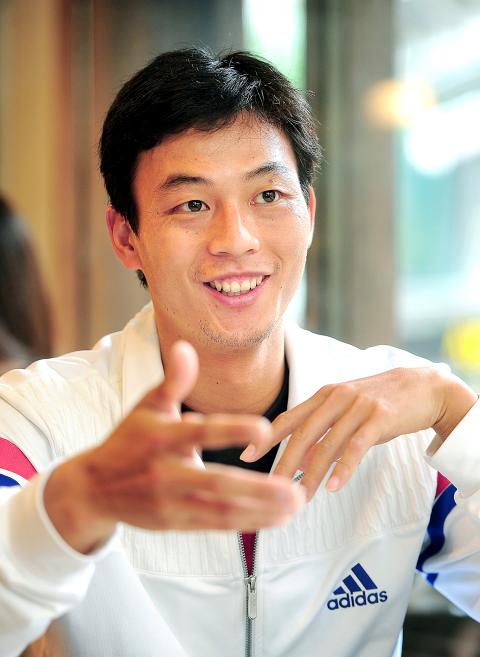 Tennis player Lu Yen-hsun gestures in an interview in Taipei's Daan District on May 9.
Photo: Fang Pin-chao, Taipei Times
"[The 2017 Universiade] is not just a global stage for Taiwanese athletes to shine or an opportunity to increase the nation's international exposure by adding another prestigious event to our resume. It is also a chance for the government to benefit Taiwanese," Lu said.
He said the government should use the time to re-examine the conditions of Taiwan's sports facilities and national policies on developing high-level athletes.
"The government can replace rusty basketball rims in parks and replace missing nets. These are some of what matters to city residents," he said.
Lu said that these steps would persuade the public that the government is looking into improving residents' quality of life ahead of the Universiade, which would in turn make people support the event.
"Small things can go a long way to increasing people's comforts and well-being," he said.
Lu said that although world-class sporting venues are essential to a large event such as the Universiade, it is equally vital to maintain sports courts that are more widely used by the public.
Lu said he has been saddened to see the poor quality of the nation's sports venues, which have fallen into disrepair.
"Most of the venues abroad still look brand-new, even after a decade of use, because the budgets they allocate for projects often include money for repair and future maintenance," Lu said.
"Yet our government tends to build new venues when the old ones wear out," he said.
Lu said that while those in power may build new infrastructure for political gain, they should also attempt to preserve and extend the service life of existing structures.
Turning to the government's nurturing of sporting talent, Lu said that because it takes several years for the investment to come to fruition, decisionmakers need to be patient and think long-term.
"If they just want to reap what they sow immediately… their policies will be short-sighted," Lu said.
The 30-year-old also urged officials to stop their "big brother attitude," which he said has frustrated too many top-notch local athletes.
"Government officials often think they wield all the power and that athletes have to beg them for subsidies. They have difficulty seeing things from the perspective of sportspeople. They also practice favoritism, offering those with whom they share close ties extra funding," Lu said.
The tennis ace said that it also takes more than a few medals to make a difference to the nation's overall levels of exercise.
Lu said key to reinforcing more exercise among the public was increasing public knowledge about sport.
He added that including sports education within the school curriculum to encourage the young to enter sports should be the government's top priority.
"Once children understand the degree of difficulty of sports, they will begin to respect athletes and their profession. That is something the US has been endeavoring to do for years, which is why athletes there can enjoy a relatively high social status," he said.
"If you have no idea how hard it is to slam dunk, how can you respect basketball players?" he asked.
Comments will be moderated. Keep comments relevant to the article. Remarks containing abusive and obscene language, personal attacks of any kind or promotion will be removed and the user banned. Final decision will be at the discretion of the Taipei Times.