Abandoned canine pulled from well in Greater Kaohsiung
A mixed-breed dog believed to have been pushed into a 5m deep dry well in Greater Kaohsiung has been rescued by the Animal Rescue Team Taiwan (ARTT).
The rescue group said it received an anonymous call on Saturday last week that a dog was trapped in a well next to Weijen Bridge (維仁橋) over Kaohsiung's Agongdian River (阿公店溪) and had been howling for days.
The group immediately went to help, using rope to lower a transport cage baited with food.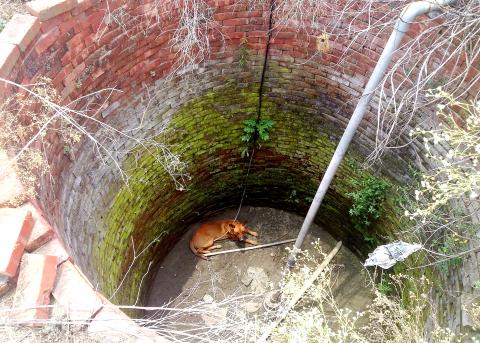 A mixed-breed dog thought to have been pushed into a dry well in Greater Kaohsiung awaits a rescue attempt by Animal Rescue Team Taiwan on Saturday last week.
Photo: Huang Hsu-lei, Taipei Times
It took more than an hour to rescue the dog — nicknamed "Well" — which they rushed to an animal hospital, where it was diagnosed with malnutrition and dehydration.
Group volunteer Chen Yi-wei (陳亦薇) said Well could have been traumatized by what appeared to be an attempt to kill it, because it could not stop trembling whenever people approached it.
ARTT spokesman Antony Ni (倪京台) said the group suspects that the animal might have been maliciously thrown into the well.
"The well is 2m wide and 5m deep and is unobtrusively located. There is a short brick wall around the rim of the well, which means the chance of the dog falling into the well by itself is very slim," Ni said, urging people to respect lives and to honor their commitment to their pets.
Comments will be moderated. Keep comments relevant to the article. Remarks containing abusive and obscene language, personal attacks of any kind or promotion will be removed and the user banned. Final decision will be at the discretion of the Taipei Times.