Tourism industry told to add value
IDEAS SHARED: The Minister of Transportation and Communications said that the tourist industry must generate more revenue to attract talent and the young
The tourism industry needs to increase its market value and raise salaries if it is to attract young talent, Minister of Transportation and Communications Yeh Kuang-shih (葉匡時) said yesterday at a youth forum at his ministry in Taipei.
The ministry has invited 40 young people to share their ideas on the tourism industry in a series of forums from this month to July.
The first forum yesterday was attended by heads of travel agencies and hotels and 40 young people, with discussion topics on industrial innovation, human resource capacity and experience-sharing between the industry workers and tourism-related graduate students.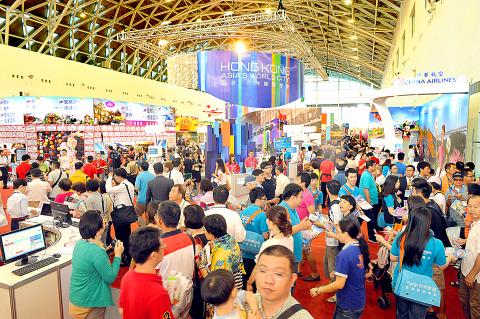 Attendees look around stalls at the Kaohsiung International Travel Fair yesterday.
Photo: Chang Chung-yi, Taipei Times
Yeh said that while the number of overseas visitors last year reached 8 million, the industry was not generating enough revenue and not attracting a new generation of workers.
Citing a personal example, Yeh said he was charged about US$30 for a glass of red wine on a Napa Valley, California, wine-tasting tour a few years ago, yet tourists to Taiwan only have to spend NT$30 for a bowl of oyster noodles in night markets.
He said the example showed that Taiwan's tourism industry still relies on a low-price strategy, with the result that people in tourism work hard yet earn low salaries.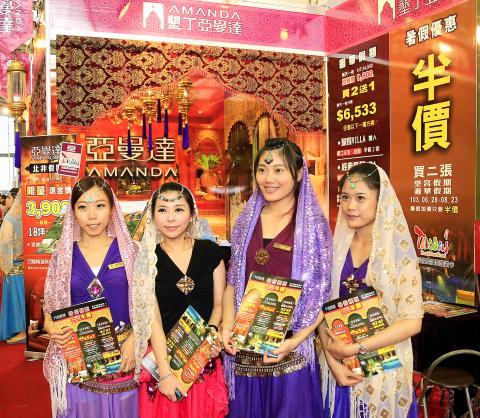 Hotel promoters dressed in traditional Middle Eastern costumes attend the first day of the Kaohsiung International Travel Fair at the Kaohsiung Exhibition and Convention Center yesterday. The event is to run until Monday.
Photo: CNA
The industry should generate more value and allow workers to earn more money to provide them with a good living standard, he said.
Yeh cited an example of a small hotel which had transformed itself through an aesthetic redesign and now earned more than before.
"By creating added value, we can work more happily, rather than work with heavier burdens. At the same time, we can earn more and enhance our quality of living," he said. "This is what I want for the tourism industry."
President Ma Ying-jeou (馬英九) said yesterday that Taiwan has become an increasingly popular tourist destination, with foreign visitor numbers increasing by 1 million annually over the past six years.
"I never dreamed that Taiwan would become a tourist destination," Ma said, while speaking at the opening of the Kaohsiung International Travel Fair.
He named the delicious food, beautiful scenery and friendly people, as well as its excellent cosmetic surgery and medical services, as the country's five tourism assets.
Last year, the number of foreign visitors reached 8.01 million, which represented growth of 215 percent from the 3.71 million in 2007, government statistics showed.
From July 2008 to last month, 634 new hotels opened, with 319 more expected to open in the next two years, meaning a new hotel is opening every three days, bureau statistics showed.
Over the past five years, 1,170 existing hotels were renovated, the bureau said, adding that between 2008 and 2016, new investment in the industry is forecast to reach NT$300.6 billion (US$9.94 billion).
Comments will be moderated. Keep comments relevant to the article. Remarks containing abusive and obscene language, personal attacks of any kind or promotion will be removed and the user banned. Final decision will be at the discretion of the Taipei Times.