Survey finds skilled workers see higher salaries than graduate degree holders
DIPLOMA DOUBTERS: Employees between the ages of 20 and 25 shared their opinions in the latest cross-industry survey by online job bank yes123
A survey released by online job bank yes123 yesterday showed that Taiwanese companies favor workers with technical skills and are willing to give them higher salaries, when considered against people who have graduate degrees.
The online job bank conducted the survey among workers in various sectors between the ages of 20 and 35.
It also asked companies about their salary offerings for job vacancies. A majority, 68 percent, said salaries would be the same for successful applicants, regardless of advanced degrees such as a master's or doctorate.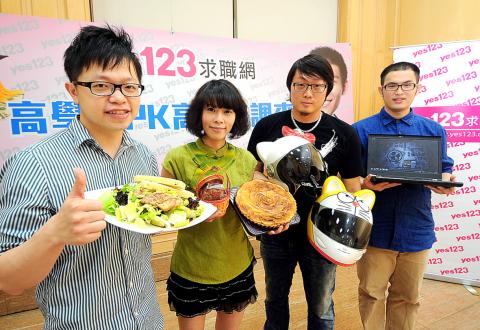 People pose at a yes123 press conference in Taipei yesterday.
Photo: Fang Pin-chao, Taipei Times
The survey found that just 12 percent of companies said they would add NT$1,000 to a beginner's starting salary if the applicant has a graduate degree. For applicants having "advanced technical skills," the salary increase is higher — an average of NT$2,600, the survey showed.
Overall, 71 percent of respondents said that having "high technical skills" is a guarantee to getting a job, while just 17.8 percent said having advanced graduate degrees would be a guarantee of employment, the survey showed.
The survey also showed that just 26.2 percent of people with a bachelor's degree said they would go on to take up a master's program, while of those who already have a master's degree, just 14.3 percent plan to pursue doctorates.
The desire to pursue an advanced degree was hobbled for 47.6 percent of respondents, who said that they would get a low return on their investment, while 24.9 percent of respondents said that salaries are about the same for workers with a graduate degree and for those without one.
The survey found that the typical wage addition was NT$3,199 for employees with a graduate degree, but NT$3,875 for those with advanced technical skills.
Among survey respondents, 19.9 percent said NT$5,000 would be added to a salary if they had a certification for technical skills that required professional standards testing.
The survey found that people are willing to learn new skills to enter a new occupation, with the top wish list including restaurant chefs (18 percent), pastry bakery chefs (14 percent), bartenders (13.8 percent), retail cosmetics make-up artists (13 percent) and landscape technicians (13 percent).
For the time to learn technical skills for a new occupation, 37.1 percent said they would be willing to spend up to one year; 22.4 percent, half a year and 14.9 percent, two years, with an overall average of 1.58 years.
Comments will be moderated. Keep comments relevant to the article. Remarks containing abusive and obscene language, personal attacks of any kind or promotion will be removed and the user banned. Final decision will be at the discretion of the Taipei Times.