Organ recipients volunteer to help donor's ailing mom
HEART OF THE MATTER: A mother's unselfish choice changed the lives of two young men who now feel a duty to help her fight against cancer
After 15-year-old Tseng Yi-chen (曾一宸) was declared brain dead in May 2011 following an accident at home, his mother, Tung Yi-hsuan (董懿萱), made his organs available for donation to see his memory live on through one last good deed.
Last year, Tung herself was diagnosed with advanced lung cancer that had spread to her brain.
After she underwent targeted therapy and chemotherapy, her condition seemed to improve, but more recently she had to be hospitalized when her situation worsened and the spread of the disease affected her ability to speak.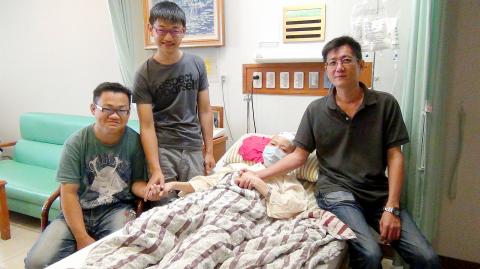 Wang Lu-yan, left, and Wang Peng-fu, second left, visit Tung Yi-hsuan at a Kaohsiung hospital on Thursday, with her husband, Tseng Ching-yun, right.
Photo: Huang Hsu-lei, Taipei Times
Her husband was unable to take care of her around the clock because he teaches English at a local cram school every evening.
However, two young men whose lives were changed by Tseng's organs have volunteered to take care of Tung at the hospital when her husband cannot.
Wang Peng-fu (王鵬富), 21, and Wang Lu-yuan (王律淵), 20, take turns at Tung's bedside to feed and look after her.
They are there almost every night: One comes every Monday, Wednesday and Friday and the other every Tuesday, Thursday and Saturday. The two feed her, talk with her and give her massages, caring for her to the degree that medical workers at first mistook them for her sons.
"We lost a precious jewel, but gained two valuable pieces of jade in return," said Tung's husband, Tseng Ching-yun (曾慶雲).
Three years ago, Tseng Yi-chen had been suffering from a high fever when he fell down a flight of stairs, injuring his head.
He fell into a coma and the hospital, unable to revive him, declared him brain dead just two days after Mother's Day — the celebration of which his father now compares to "a final sending off."
Recalling the events of 2011, Tung said the loss of her son was "too painful," so she decided to let him "help other mothers and fathers."
To prevent any unforeseen issues after organ transplants, hospitals generally do not disclose any information about donors or recipients. However, "sympathy" is a funny thing.
At Kaohsiung Chang Gung Memorial Hospital's memorial service for organ donors in 2012, a teary Tung approached Wang Peng-fu and said: "I have a feeling that you have my son's heart."
The scene brought tears to the eyes of nearby medical staff. Tung said it was simply "instinct."
Wang Peng-fu, who had received Tseng Yi-chen's heart, was at the memorial service to pay his respects when he met Tseng's mother.
Tung met the recipient of one of Tseng Yi-chen's kidneys, Wang Lu-yuan, not long after, and the three have been in close contact ever since.
Wang Peng-fu said he will "contribute 200 percent" of his energy to society and that it is his duty to take care of his donor's mother.
Wang Peng-fu had a congenital heart disease. When he was 18, doctors told him that he had the heart of an 80-year-old — and it was only going to get worse.
Wang Lu-yuan suffered from several health conditions due to his deteriorating kidney since he was in elementary school, including albuminuria and hematuria. He had required dialysis since he was in the fourth grade.
The two described their wait for possible donations as "torment" and said that Tseng Yi-chen's donations gave them a chance at a new life.
Tung's husband said the two are "just like family," and that his two new "sons" have been a great help. He and his wife are both very grateful that the love left behind by their late son could end up bringing the three families together.
Comments will be moderated. Keep comments relevant to the article. Remarks containing abusive and obscene language, personal attacks of any kind or promotion will be removed and the user banned. Final decision will be at the discretion of the Taipei Times.