Legislative Yuan barricades removed
BACK TO NORMAL? The barricades used to control protesters are now being dismantled by the police following the end of Lin I-hsiung's hunger strike
After weeks of street protests — starting with the Sunflower movement on March 18 and including antinuclear demonstrations last week — steel barricades around the Legislative Yuan, mainly on Qingdao E Road and Zhenjiang Street, were removed late on Friday, allowing normal passage for traffic.
The streets around the Legislative Yuan compound had become venues for student assemblies and street lectures following the occupation of the legislative chamber by protesters against the government's handling of the cross-strait service trade agreement.
After the legislature was cleared of protesters on April 10, Alliance of Referendum for Taiwan convener Tsay Ting-kuei (蔡丁貴), as well as students and protesters who call themselves the Free Taiwan Front, vowed to stay in the plaza outside the Legislative Yuan.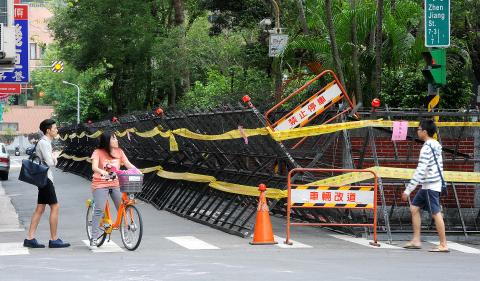 The barricades along Zhenjiang Street near the Legislative Yuan in Taipei that were put in place during the recent student protests and occupation of the legislative chamber are yesterday placed on the side of the road after police removed them and opened up the road to traffic.
Photo: Liu Hsin-de, Taipei Times
The claim prompted police to maintain security controls in the area and set up steel barricades on the streets.
Tsay led protesters to obstruct the exits from the Legislative Yuan to pressure lawmakers to end construction of the Fourth Nuclear Power Plant in New Taipei City's Gongliao District (貢寮) so that former Democratic Progressive Party chairman Lin I-hsiung (林義雄) would end his hunger strike, which he began on April 22 in protest against the government's nuclear power policy.
They attempted to obstruct vehicles leaving, including by climbing onto the hood of one car and refusing to get off, despite it driving away.
In the wake of these incidents, the police upgraded the barricades and imposed restrictions on traffic in and out of the compound. A large number of police were stationed around the compound to maintain order.
With Lin ending his fast on Wednesday and complaints from the public about the inconvenience of the restrictions, the police removed the barricades on Friday evening.
However, as of yesterday, barricades closest to the Legislative Yuan compound remained in place.
Comments will be moderated. Keep comments relevant to the article. Remarks containing abusive and obscene language, personal attacks of any kind or promotion will be removed and the user banned. Final decision will be at the discretion of the Taipei Times.