Town bids to save 'Heaven Road' from urbanized hell
Authorities in Taitung County's Chihshang Township (池上) are seeking to protect a stretch of scenic country road featured in EVA Air's "I See You" campaign by having it registered as a cultural site.
Dubbed "Heaven Road," the countryside lane was brought to the nation's attention when Taiwanese-Japanese actor Takeshi Kaneshiro (金城武) rode a bicycle along it for the airline's ad, which showed him stopping to sip a cup of tea under the road's solitary red cedar tree.
Chihshang Mayor Lin Wen-tang (林文堂) said the road has become a popular attraction, drawing visitors who want to wind along it through rice paddy fields and enjoy the panoramic scenery free of visual barriers such as telephone poles.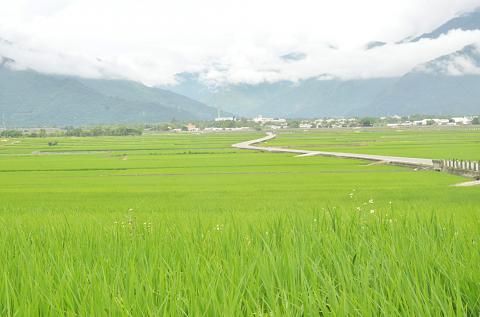 "Heaven Road" winds through a paddy field in Chihshang Township, Taitung County, on Thursday last week. The Chihshang Township Office is trying to have the road and its surrounding areas designated a cultural landscape so it will be protected amid a rise in tourism sparked by the scenic spot's appearance in a commercial.
Photo: CNA
"However, we are worried that the road's popularity will draw business ventures that would destroy the area's natural beauty with unsightly developments," he said.
To stave off such projects, the Chihshang Township Office has submitted a proposal titled the "Cultural Industry Green Corridor" to the Taitung County Government that would see the road and its surrounding farm fields and irrigation dikes registered as a cultural landscape under the Cultural Heritage Preservation Act (文化資產保存法).
Officials at the Taitung Cultural Affairs Bureau said a townhall hearing would be held to discuss the proposal and a review committee would conduct an on-site inspection before a decision is taken.
However, the approximately 300 residents who own land in the area have some doubts about the conservation plan. They worry that if the site is designated a cultural landscape, restrictions on construction and land transactions will be imposed within the protected area.
These farmers and landowners say that if the plan does not affect their right to administer their land as they see fit, they will support it.
"The publicity for 'Heaven Road' has brought a lot of visitors to Chihshang and been a boom for the township's leisure and tourism sectors, but the farmers are not benefitting. We hope that if adopted, the proposal will create a win-win situation for all sectors," a farmers' representative said.
Lin said that if the office's plan succeeds, it will seek subsidies to mitigate against any negative impact the designation has on farmers.
Comments will be moderated. Keep comments relevant to the article. Remarks containing abusive and obscene language, personal attacks of any kind or promotion will be removed and the user banned. Final decision will be at the discretion of the Taipei Times.