German using horses to help sick children
It was Uta Rindfleisch-Wu's infatuation with Taiwanese culture that prompted her to move all the way from her hometown in Europe to the nation three decades ago, but it was her unwavering determination to help her daughter, who has cerebral palsy, overcome her disability that made her one of the few top-notch equine therapists in the country.
Rindfleisch-Wu, a 55-year-old German who now goes by her Taiwanese name, Lin Wu-tien (林嫵恬), is the director of the Therapeutic Riding Center of Taiwan at the Qi Zhi Vocational Training Center, an organization dedicated to helping about 2,000 mentally and physically challenged people each year.
Having lived in Taiwan for decades, Lin speaks Mandarin so fluently.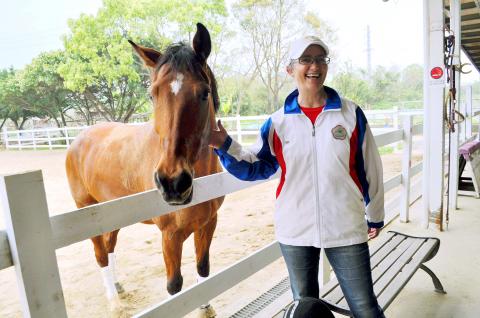 Uta Rindfleisch-Wu, a German woman who now goes by her Taiwanese name, Lin Wu-tien, poses for a picture with a horse in Taoyuan County on Monday.
Photo: Li Jung-ping, Taipei Times
Lin relocated to Taiwan in 1982 and she soon got married to a Taiwanese man.
They have a son and a daughter, with the latter suffering from walking difficulties since a doctor's misdiagnosis jeopardized her chances of receiving timely treatment for neonatal ischemic brain damage and led to her being afflicted with cerebral palsy for the rest of her life.
Although the incident devastated Lin and her family at first, she decided to make the best of the situation after she learned about the therapeutic effects of horseback riding, a childhood pastime of hers, on physically challenged people.
In an effort to improve her daughter's condition, Lin went to great lengths to learn the basics of raising and feeding horses, and even flew back to her birthplace to take a professional equine therapy training course.
She then accepted the job as an equine therapist at the Qi Zhi Vocational Training Center, though it only comes with a meager paycheck and requires her to drive every day from her home in New Taipei City's Tamsui District (淡水) to Taoyuan County's Jhongli City (中壢).
"I insist on doing the right thing," Lin said, adding that her profession has allowed her to help out not only her own daughter, but also many children who have birth defects, autism or physical disabilities.
"The joy of riding a horse has helped these children to regain their confidence, health and happiness," Lin said.
One of them is Ken Sun (孫育仁), a 24-year-old cerebral palsy patient whose remarkable horseback riding skills made him a recipient of a Presidential Education Award in 1999 and a promising contender in this year's World Equestrian Games in August in Normandy, France, the world's largest equestrian event.
"We are glad to see Sun making his way onto the international stage... and we hope Sun's story will encourage more people to make a financial contribution to the center to help us cultivate more students like Sun in the future," Lin said.
Comments will be moderated. Keep comments relevant to the article. Remarks containing abusive and obscene language, personal attacks of any kind or promotion will be removed and the user banned. Final decision will be at the discretion of the Taipei Times.