Foundation says parents are raising spoiled children
A survey by the Children's Welfare League Foundation (CWLF) found that more than 50 percent of Taiwanese children are spoiled because their parents are too "obedient" toward them, which could cause social difficulties for the children when they grow up.
While it is natural for parents to show their children love and care, excessive caring for them may actually be harmful, the foundation said yesterday as it released results of a survey on how Taiwanese parents treat their elementary-school-aged children.
"People these days are having fewer children, and this may be the reason why a lot of parents today are treating their children as princes or princesses — they may do everything for their children, including waking them up in the morning, getting their book bag ready for school and not asking them to do household chores," foundation executive secretary Huang Yun-hsuan (黃韻璇) told a news conference in Taipei.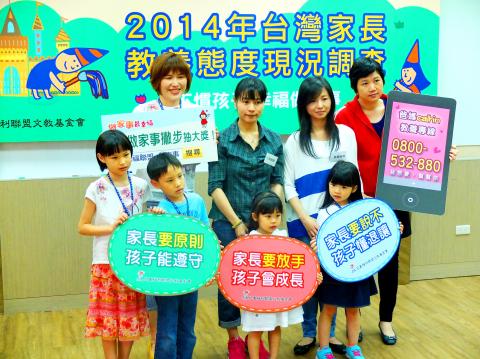 Members of the Child Welfare League Foundation hold up signs at an event in Taipei yesterday at which the foundation released the results of a study saying 50 percent of elementary-school students are spoiled.
Photo: Chen Ping-hung, Taipei Times
"Children raised like this often do not know how to get along with people, they do not know how to appreciate others, they do not know to share things and they do not know how to maintain a family when they grow up," Huang said.
While conducting interviews for the survey, foundation staff members heard about an eight-year-old girl, who upon being told by her father not to yell at her parents just because he did not bring home the dinner that she wanted, called the police to report that she was a victim of domestic violence.
"Our survey found that more than 50 percent of children between the fourth and sixth grades show some signs of being spoiled, with nearly 40 percent having yelled at their parents when told not to do something or when they do not like the food that has been prepared for them," Huang said.
"About 30 percent of the children said they have never cleaned their rooms themselves, or showed appreciation to their parents, while about 20 percent of respondents said they would feel ashamed if they had to wear low-cost outfits," he added.
Spoiled children may suffer from many issues when they grow up, so for the good of their children, parents should teach them to be responsible for themselves, Huang said.
"For instance, you should know when to say 'no' when your children ask you to do something, you should set up rules for them to follow and you should also make your children learn things by doing it themselves," Huang said.
Comments will be moderated. Keep comments relevant to the article. Remarks containing abusive and obscene language, personal attacks of any kind or promotion will be removed and the user banned. Final decision will be at the discretion of the Taipei Times.