SIEGE AFTERMATH: Taipei police chief says he ordered forced eviction
Taipei City Police Department Commissioner Huang Sheng-yung (黃昇勇) yesterday said he gave the order to evict demonstrators from the Legislative Yuan's front plaza on Friday morning last week, which led to protests outside the Zhongzheng First Police Precinct station in Taipei that evening.
"I myself made the decision. The decision is not illegal," Huang told a press conference at the Zhongzheng precinct station yesterday afternoon.
Since Alliance of Referendum for Taiwan convener Tsay Ting-kuei (蔡丁貴) had violated the Assembly and Parade Act (集會遊行法), "I gave the order [for police] to evict his group," Huang said.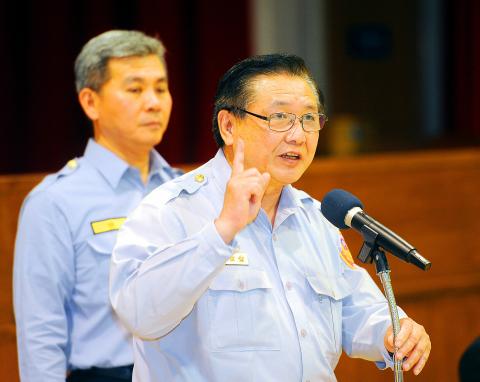 Taipei City Police Department Commissioner Huang Sheng-yung, right, yesterday visits the Zhongzheng First Police Precinct station to show his support.
Photo: Fang Pin-chao, Taipei Times
"It has nothing to do with preventing people from using the road to hold rallies," he added.
Tsay, who was hospitalized after being involved in a road accident in his haste to stop the police action on Friday morning, has said that Zhongzheng First Police Precinct Chief Fang Yang-ning (方仰寧) had told him that the order to disperse the protesters came from the top through National Police Agency Director-General Wang Cho-chiun (王卓鈞).
"So the chief culprit would either be [Premier] Jiang Yi-huah (江宜樺) or [President] Ma Ying-jeou (馬英九)," Tsay said.
Angry at the police's move on Friday morning last week, nearly 1,000 people attempted to besiege the Zhongzheng precinct station that evening, sparking a tense standoff and sporadic clashes with officers for about five hours until midnight.
In related news, the Taipei District Court yesterday said it had received material evidence from the police relating to a complaint by high-school science teacher Lin Ming-hui (林明慧), who said he was beaten up by police officers when they forcibly removed protesters outside the Executive Yuan building on March 23.
The court approved a motion to preserve the evidence and ordered the National Police Agency and the Taipei City Police Department to hand over other evidence that the police had gathered on March 23 and the following morning.
According to the court, it received five CDs containing videotape evidence — covering the period from 7pm on March 23 to 6am on March 24 — from surveillance cameras on streets around the Executive Yuan complex, and 156 CDs containing video recordings made by the police during their forced eviction of the protesters.
The court added that it also received police agency records and documents covering the same timeframe, including police log books, record-keeping of duties assigned to officers, personnel assignments and coordination of the eviction operation, as well as the division of areas of responsibility by the different police agencies.
Comments will be moderated. Keep comments relevant to the article. Remarks containing abusive and obscene language, personal attacks of any kind or promotion will be removed and the user banned. Final decision will be at the discretion of the Taipei Times.