Ex-baseball star accused of slander, taking money
Former baseball star Tsao Chin-hui (曹錦輝) is embroiled in a legal dispute, as his romantic and business partner for the past two years went to court on Monday to accuse him of slander and misappropriation of funds.
Known as "Hsiao Chun" (小均), she said she had been Tsao's female companion in recent years and that together they owned and managed a beef noodle restaurant in Hualien City.
On Sunday, she accused Tsao of stealing money from her and running away with a new girlfriend.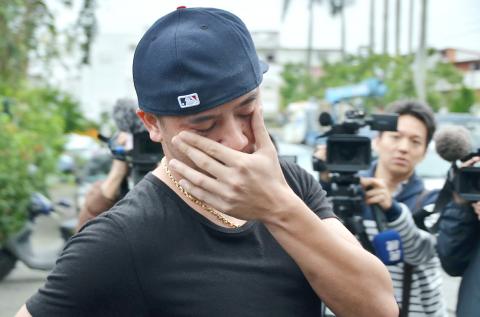 Former major league baseball player Tsao Chin-hui wipes tears as he talks to the media in Hualien County on Monday.
Photo: Yang Yi-chung, Taipei Times
In response, Tsao said he was the real victim and accused Hsiao Chun of being unfaithful to him.
He alleged that she was carrying on affairs and having one-night stands with other men, and also said that she had lied about her past marriage.
"She told me she was single, but I found out she had been married before and had a child," Tsao said.
He also said that he had taken the money to pay bills owed to their restaurant's creditors, and that he had left the restaurant to her.
Hsiao Chun denied Tsao's counter-allegations, especially his accusations that she had been unfaithful to him. Saying the accusations have done irreparable damage to her and her family, she decided to take him to court.
Hsiao Chun also posted a message to inform customers that she had to apologize "because Mr Tsao is no longer at the restaurant… He has disappointed the fans who supported him."
She also posted a photograph of her bank book and wrote: "He took my money and ran away with his new girlfriend," alleging that Tsao had withdrawn NT$270,000 from her account without her consent.
Tsao was a sensation in youth baseball, and signed with the Colorado Rockies in 1999 with a signing bonus of US$2.2 million, which is still a record for a Taiwanese baseball player. Tsao pitched for several Major League Baseball teams from 2003 to 2007, but injuries forced him to return home to play in Taiwan in 2009.
Tsao was then involved in a match-fixing scandal that year that entangled him and many players on the Brother Elephants team in Taiwan's Chinese Professional Baseball League. He and his fellow players were alleged to have thrown games in exchange for money and offers of sex with prostitutes.
Comments will be moderated. Keep comments relevant to the article. Remarks containing abusive and obscene language, personal attacks of any kind or promotion will be removed and the user banned. Final decision will be at the discretion of the Taipei Times.