TRADE PACT SIEGE: NTU Hospital treats 62 people injured during clashes
A total of 62 injured people had been taken to National Taiwan University (NTU) Hospital as of yesterday morning after police began evicting student protesters from the Executive Yuan compound before dawn by using batons and water cannons.
Hospital spokeswoman Tan Ching-ting (譚慶鼎) said the 62 included students and other protesters as well as police officers, but no one had died.
None of the injuries were serious, and most involved bruises and abrasions from physical clashes, Tan said, stressing that a report that an injured student had died was incorrect.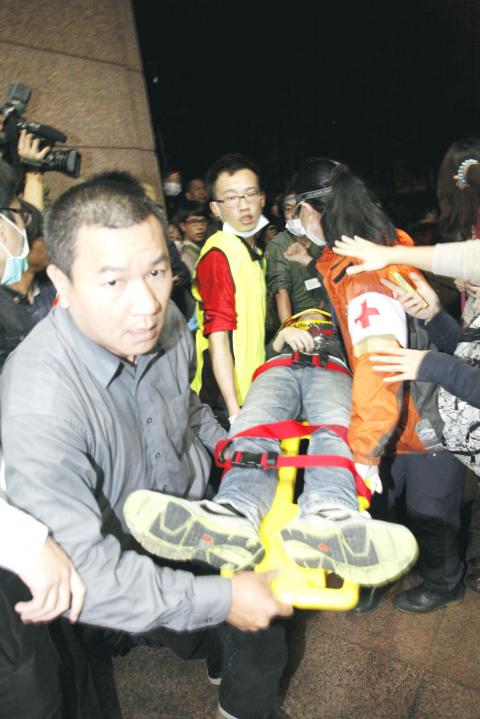 An injured protester is carried on a stretcher to an ambulance outside the Executive Yuan in Taipei on Sunday night during ongoing protests against the service trade agreement.
Photo: David Chang, EPA
Taiwan Solidarity Union Legislator Chou Ni-an (周倪安) was among the injured, Tan said, adding that the lawmaker was in good condition, but was hospitalized for further examinations.
A police officer was temporarily hospitalized, but was later discharged, Tan said.
As of yesterday morning, the hospital said it had received a total of 97 people since the legislative siege began on Tuesday night last week, three of whom needed hospitalization, including police officer Chung Chen-chiang (鍾振強), who fainted during a clash with protesters on Wednesday.
The hospital has not gone into a multiple-casualty incident mode, despite rumors that it had, Tan said.
National Taiwan University Hospital is one of 17 hospitals accepting people injured in the protest, Taipei's Department of Health said, adding that at least 145 people had received treatment as of yesterday morning.
The department said that it had designated seven hospitals to provide emergency medical treatment during the siege, but after the storming of the Executive Yuan on Sunday night and the subsequent confrontations between police and protesters, it added another 10 hospitals to the list.
Taipei City Government spokesman Chang Chi-chiang (張其強) said at least 52 police officers have been injured since Sunday night, most of whom suffered lacerations, although one had a leg injury and another had complained of tightness in his chest.
Some members of the media have also been injured over the past week.
Minister of the Interior Chen Wei-jen (陳威仁) and Cabinet Deputy Secretary-General Hsiao Chia-chi (蕭家淇) yesterday visited the injured officers, including Chung.
Asked for a comment about the ongoing siege of the Legislative Yuan, Chen said the ministry fully respects Legislative Speaker Wang Jin-pyng's (王金平) ability to handle it.
Additional reporting by Loa Iok-sin
Comments will be moderated. Keep comments relevant to the article. Remarks containing abusive and obscene language, personal attacks of any kind or promotion will be removed and the user banned. Final decision will be at the discretion of the Taipei Times.