LEGISLATIVE SIEGE: KMT to boycott legislature until cleared
TALK OF DUTY: The KMT called on Wang to take action, saying it is the responsibility of the speaker to ensure lawmakers have a safe, free environment in which to work
The Chinese Nationalist Party (KMT) legislative caucus has decided to boycott all meetings at the legislature from tomorrow if the legislative chamber is not cleared of students protesting the cross-strait service trade agreement.
KMT legislative caucus whip Lin Hung-chih (林鴻池) said that KMT lawmakers would not attend legislative meetings until the students leave the floor.
The KMT caucus urged Legislative Speaker Wang Jin-pyng (王金平) to bear the responsibility of reconvening the legislature, Lin said.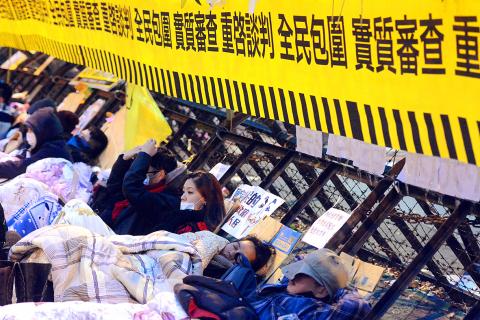 Students participating in the protest at the Legislative Yuan in Taipei yesterday rest lying down on the barricades set up by police.
Photo: Wang Yi-sung, Taipei Times
"It's the responsibility of a speaker to ensure that lawmakers are able to perform their duties in a free and safe environment," he said.
Hundreds of students have occupied the legislative chamber since Tuesday, drawing tens of thousands of people to join a rally in the legislative compound, paralyzing the operation of the legislature.
Democratic Progressive Party (DPP) legislative caucus whip Ker Chien-ming (柯建銘) said the KMT was attempting to pass the buck to Wang.
What led to the current situation was President Ma Ying-jeou's (馬英九) order for the agreement to be rushed through the legislature without regard for due process, Ker said.
"Neither Ma nor the KMT have dared to face the students and have rejected their concerns," Ker said.
DPP Legislator Chen Chi-mai (陳其邁) said that he has scheduled a meeting of a joint committee for tomorrow to nullify the decision announced by KMT Legislator Chang Ching-chung (張慶忠) that the trade pact should be sent for a vote at the second reading stage.
At a meeting of the joint committee on Monday, Chang took just 30 seconds to make the announcement, after which a melee among lawmakers disrupted the meeting, which was followed by the students' protest.
The KMT has said that the party was open to a line-by-line review of the trade pact on the floor at the second stage.
Yet Wang said yesterday that having a line-by-line review at the second-reading stage on the floor would not be consistent with the established practice that lawmakers decide on whether to accept the result of a committee review during a second reading stage, rather than have the committee review start afresh.
Comments will be moderated. Keep comments relevant to the article. Remarks containing abusive and obscene language, personal attacks of any kind or promotion will be removed and the user banned. Final decision will be at the discretion of the Taipei Times.