Oil painter inspired by family's history
COAL CONNECTION: Artist Lee Ming-chi's maternal grandfather worked as a miner and he has used stories his mother would tell about her father for his paintings
An art exhibition in Keelung focuses on the men who once worked in one of northern Taiwan's most important industries, coal mining.
The show, titled "Coal Miners at Work," in the First Exhibition Hall of the Keelung Cultural Center features the work of painter Lee Ming-chi (李明吉).
The paintings show the physical exertion and determination needed by miners working on coal seams in deep underground shafts.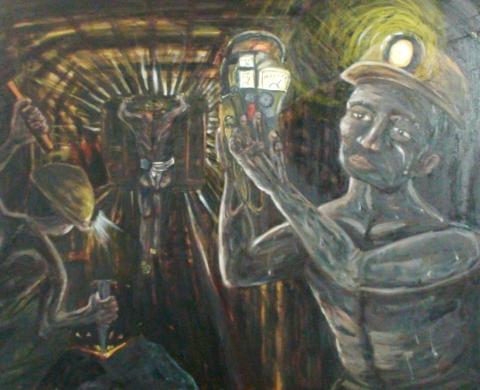 A painting by Lee Ming-chi, seen on Friday last week, depicts coal workers in a deep shaft.
Photo courtesy of Lee Ming-chi
While Lee has never worked as a coal miner, his maternal grandfather did, and it took a toll on his health.
"He passed away before I had a chance to meet him. All my impressions about him came from my mother, from the stories she told me," said Lee, who teaches arts and humanities at Keelung's Dongsin Elementary School.
"My mother used to deliver meals to the mine entrance for my grandfather. She would see his face covered in coal dust, his hands laced with cuts and scars. Even his sweat was black," Lee said.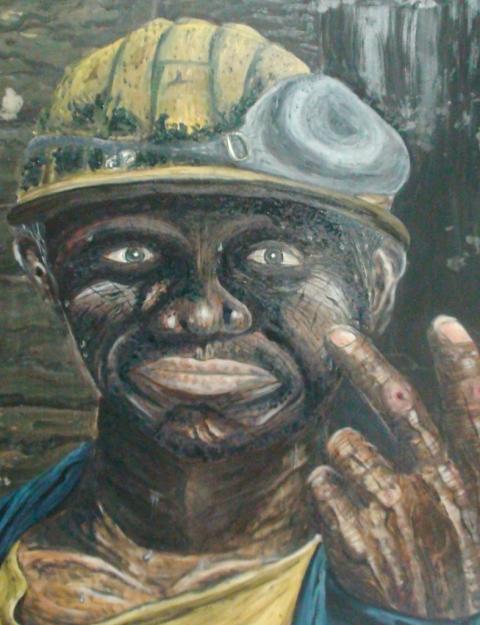 Artist Lee Ming-chi says the painting Two More Carts to Go, seen on Friday last week, is his favorite work in an exhibition on display at the Keelung Cultural Center.
Photo courtesy of Lee Ming-chi
"Grandfather did not talk to her much then, because he would be eating coal dust when trying to speak. He mostly used his fingers to talk," Lee said.
"In the past, a miner's wages were not based on the hours worked, but on the number of carts he filled. When grandfather held up two fingers, he was saying 'I have to fill two more carts and then I can rest for the day,'" Lee said.
The coal miner paintings are also a way to commemorate his late mother, Lee said, adding that Two More Carts to Go is his favorite work in the series.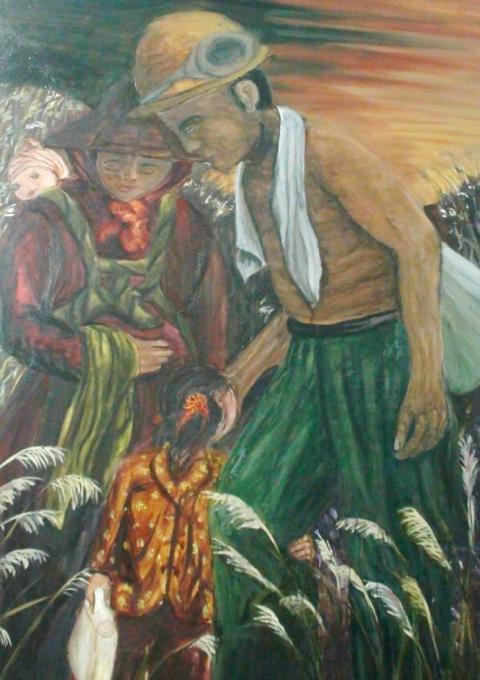 A painting by Lee Ming-chi, seen on Friday last week, is another work inspired by stories Lee's mother told him about her father, a coal miner.
Photo courtesy of Lee Ming-chi
"It took me five years to prepare for this exhibition. I hit a bottleneck at the start. There was so much emotion inside that I wanted to express, but I just could not do it on canvas," he said.
So Lee decided to go back to school. He passed the examinations to a master's program at National Taipei University of Education's arts and design department.
In his studies, Lee learned about collecting material for his work, including conducting fieldwork in communities and interviewing people.
"I drew more than 200 sketches, from which I produced these 22 oil paintings. Of course, much of the inspiration and subject matter was based on the stories my mother told me," he said.
"Miners are tenacious father figures," Lee said, adding that they were the pillars of their households, who toiled hard and long to earn a living for their families.
His paintings express his admiration for his father, and reflect the responsibilities of fatherhood that Lee now knows firsthand.
Lee said he plans to continue using coal miners as subjects for his future work.
"I want to document the life stories of the working class people from that era," he said.
Many visitors to the exhibition have praised Lee's paintings in the show's comments book.
"My father was a coal miner. I cried while looking at your paintings," one person wrote.
Comments will be moderated. Keep comments relevant to the article. Remarks containing abusive and obscene language, personal attacks of any kind or promotion will be removed and the user banned. Final decision will be at the discretion of the Taipei Times.