Internet celebrity Chu's montages mock politicians
With potential candidates for the Nov. 29 seven-in-one elections going into campaign mode, Internet celebrity Lucifer Chu (朱學恒) has drawn inspiration from the recent outdoor exhibition of papier-mache pandas by French artist Paulo Grangeon in Taipei, releasing a series of doctored images poking fun at some of the contenders.
The objects of Chu's latest works are Taipei Mayor Hau Lung-bin (郝龍斌), former vice president Lien Chan's (連戰) son Sean Lien (連勝文) and National Taiwan University Hospital physician Ko Wen-je (柯文哲).
Lien has officially announced his intention to represent the Chinese Nationalist Party (KMT) in the Taipei mayoral election, while Ko is likely to run in the Taipei mayoral race either as an independent or as a "recruit" for the Democratic Progressive Party (DPP).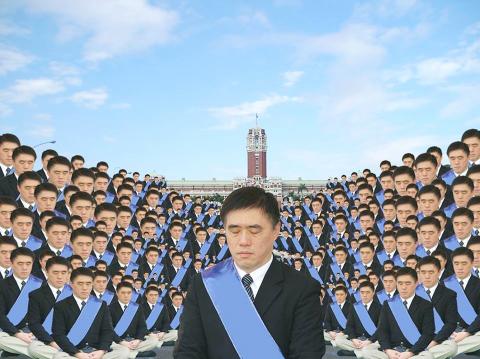 A montage posted by Internet celebrity Lucifer Chu on March 6 on his Facebook page features images of Taipei Mayor Hau Lung-bin in front of the Presidential Office Building in Taipei.
Photo taken from Lucifer Chu's Facebook page
Chu earlier this month posted a photograph on Facebook of a flash mob event in which 1,600 papier-mache pandas were put on display for 30 minutes on Dunhua S Road on Feb.22.
The only difference between the picture and the real-life event is that all the pandas' faces were replaced with Lien's.
The picture was accompanied by a derisive "press release": "A total of 1,600 'Sean pandas' gather on Zhongxiao E Road because the houses there are, even for Sean, too expensive to afford... the art installation attracts a huge crowd of children eager to take a picture of themselves with Sean because it is a once-in-a-lifetime chance to see and interact with him outside The Palace (帝寶)."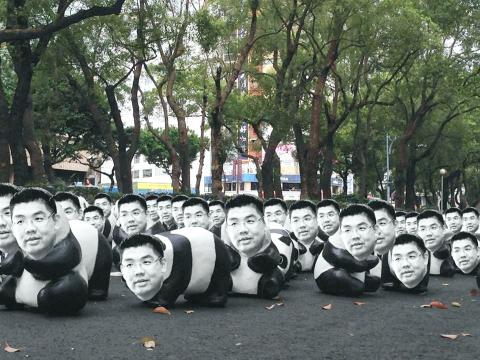 A montage posted by Lucifer Chu on Facebook on March 6 shows the face of Taipei mayoral hopeful Sean Lien on papier-mache pandas in Taipei.
Photo taken from Lucifer Chu's Facebook page
Lien's Taipei mayoral bid has been plagued by controversy because of his family's wealth and the fact that he is able to afford an apartment in The Palace, a luxury apartment complex on Renai Road in Taipei.
Another photomontage which featured hundreds of doppelgangers of Hau sitting cross-legged in front of the Presidential Office Building in Taipei also attracted applause from netizens.
"Hau, looking adorable, observes a minute's silence to mourn the nation's low wage problem, while drawing up a timetable for his grand plan to take over the presidency," reads the picture's caption, alluding to recent remarks by Hau, who is rumored to be interested in running in the 2016 presidential election, urging the government not to let the nation's low wages become a "national disgrace."
Chu went on to share a montage poster showing Ko standing alone on a road in Taipei that appeared to be deserted, with the title reading: "Fight alone."
Comments will be moderated. Keep comments relevant to the article. Remarks containing abusive and obscene language, personal attacks of any kind or promotion will be removed and the user banned. Final decision will be at the discretion of the Taipei Times.