Teen bartender shares success
MIXED MESSAGE: The former Asia-Pacific champion told students how she blends experience with persistence and local pride when facing international competitions
Having performed her first bartending show at the age of four, Kuo Chih-ling (郭植伶), a top prize-winner in the Asia-Pacific Bartender of the Year Cocktail Competition in 2011, describes practicing "mixology" as "tasting life."
"Sometimes it's sweet, sometimes bitter," Kuo said yesterday at a presentation of the results of a Ministry of Education nourishment and development program aimed at encouraging middle-school students to discover and develop their talents.
The event was held at Chung Shan Industrial and Commercial School in Greater Kaohsiung, from which Kuo graduated last year. She was invited to attend the presentation to share how she pushed herself to achieve excellence.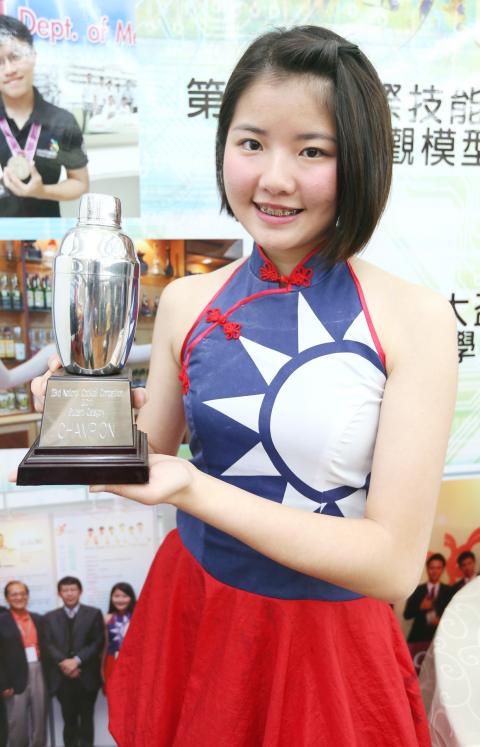 Champion "mixologist" Kuo Chih-ling holds a bartending award at the Ministry of Education in Taipei yesterday.
Photo: CNA
Kuo, now 18, reached the international stage when she was 16. That year, she beat a group of competitors aged 17 to 21 to win the top honor in the classic cocktail category of the 2011 Asia-Pacific Bartender of the Year contest in Singapore.
With that triumph, she became the world's youngest bartending champion.
In addition, the Republic of China (ROC) national flag dress she wore during the competition impressed the audience and the media, and has since become her signature style.
"Whenever I attend shows at home or aboard, or take part in international competitions or receive an award, I wear the dress in the hope that the world will see Taiwan," Kuo said.
Born to professional bartending parents, Kuo grew up with bottles as her toys. At four, she performed along with her parents at a charity event in her first show, earning warm applause.
At six, she began attending bartending competitions on her own.
Now, with more than 14 years of mixology experience, Kuo acknowledges that "there is the moment when you fail and get hurt."
However, she added, "Only if you insist on keeping going can you see hope."
Comments will be moderated. Keep comments relevant to the article. Remarks containing abusive and obscene language, personal attacks of any kind or promotion will be removed and the user banned. Final decision will be at the discretion of the Taipei Times.