Interior minister inspects airport security
VIGILANCE: Chen Wei-jen said security must be stepped up after the disappearance of the Malaysia Airlines plane, promising to allocate funding to hire more personnel
Following the disappearance of a Malaysia Airlines plane, inspection measures at Taiwan Taoyuan International Airport must be raised to the highest level, Minister of the Interior Chen Wei-jen (陳威仁) said yesterday during an inspection of the airport.
Apart from providing quality service, all security inspection operations at the airport must be raised to "the standard of counter-terrorist operations in countries such as the US and Israel," he said.
The National Immigration Agency (NIA) and the Aviation Police Bureau have asked all airports and ports to enhance safety inspections and passport checks to prevent travelers from using fake or stolen passports and search for possible terrorist suspects through the Passenger Information System before planes depart, he said.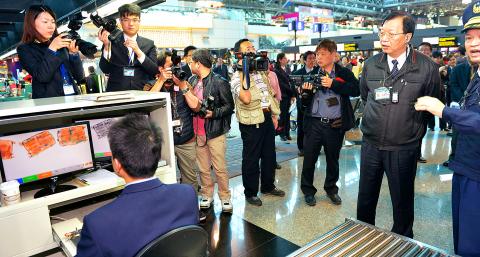 Minister of the Interior Chen Wei-jen, right, observes a customs inspection at Taiwan Taoyuan International Airport yesterday.
Photo: Yao Chieh-hsiu, Taipei Times
NIA Director-General Hsieh Li-kung (謝立功) and National Police Agency Director-General Wang Cho-chiun (王卓鈞) accompanied Chen during his inspection of front-line safety and passport check operations.
Detailed safety inspection measures, such as checking passengers' baggage, leather shoes and belts, should not be neglected, while thorough inspections should also be carried out on passengers in wheelchairs — including checking the wheelchair, wheels, cushions and accompanying ground personnel, he said.
While the number of passengers departing Taiwan has increased by about 54 percent in recent years, the number of security personnel for inspections has only increased by about 7 percent, he said.
The ministry will try to get a more funds to improve manpower levels and outsourcing of routine work, he said.
After the Malaysia Airlines plane vanished on March 8, the National Counterterrorism Center immediately put the Personal Information Security system into use, so that suspect passengers can be screened out before planes depart and flights can be closely monitored, the minister said.
Meanwhile, the National Counterterrorism Center is linked to a US counterterrorism database, and inspections will strictly prohibit the entry of suspected terrorists or passengers with insufficient identification, the ministry said.
To enhance inspections of passengers and cooperate with the US counterterrorism actions, the NIA has launched the Biometrics Verification System for Foreign Visitors, which collects the fingerprint and visual images of all foreign visitors to help prevent the entry of passengers using bogus travel documents.
The system is undergoing a trial operation at the Kaohsiung International Airport, the immigration agency said.
It said that the system will eventually be installed at all major airports and ports nationwide.
Comments will be moderated. Keep comments relevant to the article. Remarks containing abusive and obscene language, personal attacks of any kind or promotion will be removed and the user banned. Final decision will be at the discretion of the Taipei Times.